United after 20 years, separated in seconds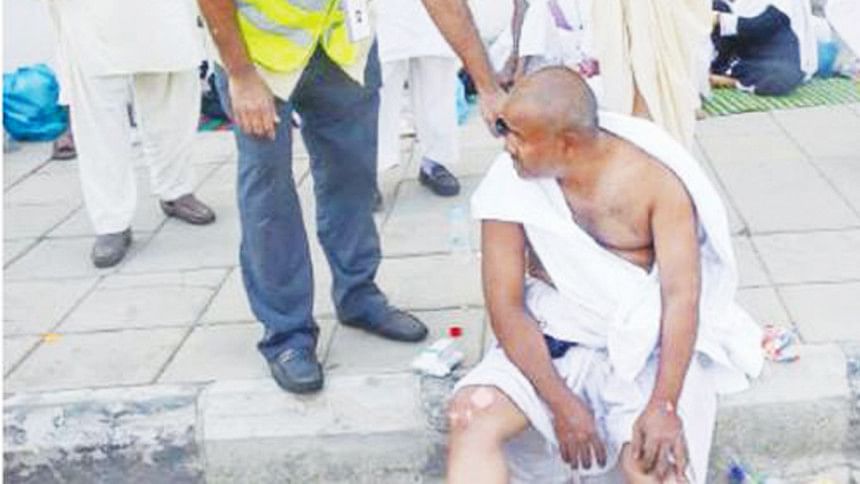 Muhammad Bilal, a Bangladeshi pilgrim, was sitting at the pavement near Mina Al-Jisr Hospital hoping to have a last look at his wife who died in the stampede.
He could not believe that he would lose her so quickly especially that they were reunited after 20 years of separation.
With tears running down his eyes and a voice hoarse by weeping he would ask his countrymen if anyone of them had seen his wife though deep down he was quite sure none of them had or would.
"She promised to be with me every time of my life but now she has forever gone," he told Al-Hayat newspaper on Friday.
Bilal has been living in Saudi Arabia for about 25 years. He is now working in a dress shop in Dhahran Al-Janoub.
"I have been saving money for about 20 years to bring my wife for Haj. I have been away from her for long years. When she finally came, I lost her in few seconds only," he said.
His friend Abdul Aleem was trying to console him reciting to him verses of the Qur'an which call for patience at times of great pain.
As soon as he stopped weeping, he would ask if anyone had seen his wife. He would quickly realize that she was dead and continue crying. "My wife has gone before completing her Haj rituals. She died in front of my very eyes. She would never again see her three children," he said sobbing.
Bilal said his wife was a great believer and was extremely happy to be coming to the Kingdom for the Haj.
"She hugged her three children very tightly as if she had a notion that this would be her last journey," he said.
Bilal said he and his wife threw stones together at the Satan and were on their way out of the Jamrat area at about 7:30am.
"We entered the street No. 204 and were met by human floods who were going to the Jamrat. We tried to escape but the rush was so huge that we both fell down," he said.
Bilal said many pilgrims fell on them but he managed to get up despite his exhaustion and the burns he suffered from the hot ground.
"I cried. Please save my wife but no one would listen to me as everyone was busy trying to save himself. I tried to pull her out of the large number of bodies over her but could not. I saw her eyes wide open toward the sky and her finger raised in monolith. She died without saying goodbye to me or her children," he said.
Bilal said the only solace he had was that his wife would be buried in the most sacred of places on earth and she would meet her Creator as a martyr.
Asked about his own health condition, he said he suffered burns in his face, back and legs due to the soaring heat of the ground where they fell.
Bilal said he was transported to Mina Al-Jisr Hospital for treatment. "I am still in the hospital waiting to have a final look at my wife and bid her farewell," he said.