Shooting of minor: Case filed against MP Liton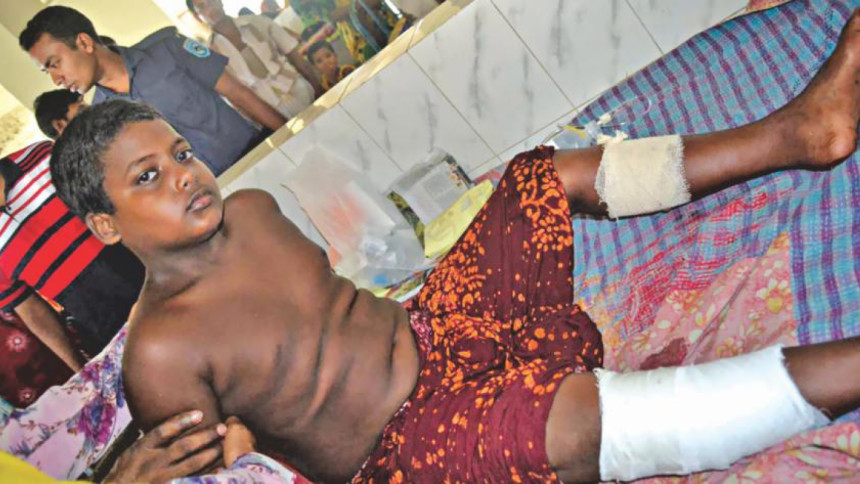 - MP Liton accused in attempt to murder case
  - Liton's licensed firearms surrendered
  - Victim's family demands justice
  - Victim Sourav "writhing in agony"
Victim's father today sued Gaibandha-1 ruling Awami League lawmaker Manzurul Islam Liton for attempting to murder his 10-year-old son Sourav Mia.
Saju Mia filed the case with Sundarganj Police Station tonight, Israil Hossain, the station's officer-in-charge, told The Daily Star. The MP was the lone accused.
Earlier this evening, Liton surrendered his licensed pistol and a shotgun to the police station around 6:00pm, the OC said. His brother in-law Tariqul Islam deposited the firearms.
Gaibandha Deputy Commissioner Abdus Samad ordered lawmaker Liton to surrender the firearms following allegations of shooting Sourav on the legs, he said.
Liton, however, could not be reached over phone when contacted around 8:15pm.
The MP allegedly shot 10-year-old boy Sourav Mia from Gopalcharan village in Sundarganj for no reason, according to the victim's family.
Meanwhile, in Rangpur Medical College and Hospital, Sourav was writhing in agony, his father Saju told The Daily Star over phone this evening.
Shahjahan Mia, uncle of the victim, who is also at the hospital, said he demands justice for the incident. "This is a big offense. He shot my nephew and then pinned a gun on my chest. We demand justice. But, let Sourav recover first."
Allegations are that the lawmaker fired gunshots to scare off the family from taking the boy to a hospital and that they had to lie their way out of the situation.
MP Liton is the president of ruling Awami League's Sundarganj upazila unit. He blatantly refused the allegation of shooting from the beginning.