Shayera's Obituary: Brilliant, but all too brief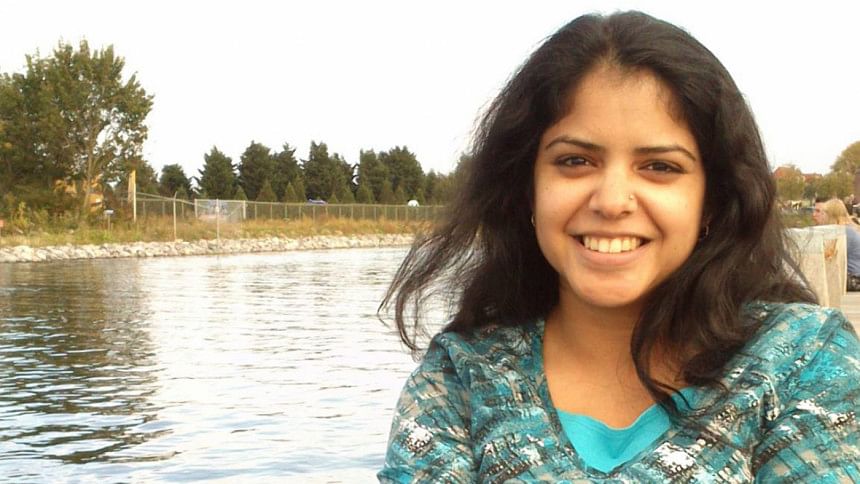 The passing away of Shayera Moula -- an indelible part of The Daily Star for the last 14 years -- on the ill-fated night of May 29 when she succumbed to infection at United Hospital, is beyond belief for family, friends and colleagues, all of whom she touched with her positivity. But at the young age of 29 and with so much still to offer not just this paper but the community as a whole, it is a wider tragedy than that being endured by her loved ones.
She is survived by her husband, parents and older brother.
After an early childhood spent in Switzerland (where she was born on November 22, 1985), Germany and Nepal, Shayera returned to Bangladesh and started her career here as a 15-year-old freelance writer for teen magazine Rising Stars, before being appointed by the newspaper in 2003. From that young age, evident in her writings were her sharp wit and her oft-stated love of sarcasm for comic effect. Ever-present off the page were her beautiful smile and seemingly endless optimism as others often grumbled about deadlines and bosses. She grumbled too, but hers was always tinged with humour, as if secretly imbued with the rare wisdom that life was not to be taken too seriously.
From the light-hearted days on Rising Stars, she graduated to the editorial team in 2010, where she served as a sub-editor, feature writer and interviewer. She also often contributed to the Star Weekend Magazine, writing on issues such as women's security and domestic violence; issues that belied her cheerful exterior while revealing the passion for justice within. With these many hats that she wore, her dedication and commitment to a high standard remained constant. From the years of 2010 to 2013 she was the face of the editorial page, always there in the mornings, integral in editing pieces and liaising between contributors and editorial staff.
Through all of this, she completed honours in English Literature and master's in Development Studies from BRAC University, arming herself for a career in journalism and to work for the betterment of the nation she so loved.
Her next step in a promising career was to leave The Daily Star in late 2013 to pursue a second master's in journalism at the University of Groningen in the Netherlands, which she achieved earlier this year. She left shortly after her marriage to Hasan Ameen Salahuddin, a colleague at The Daily Star and also someone she knew from their days at BRAC University.
Leaving a mark wherever she went, the university magazine in Groningen featured her as the International of the Month in January 2014, and the article contained a nugget that revealed the love the couple shares: "Where her roommate's [side of the room] is full of stuffed animals, photos and memories of home, Shayera's side is plain with only a single bed, wardrobe, table, chair and desk light from the Housing Office. The only thing that reminds her of home is a wedding picture of Shayera and her husband Hasan" (UK Magazine 16 January 2014).
We all pray that you are in a better place. We are sorry that you have left but are so thankful that you were here at all, and because all our faiths have been strengthened in the hope that we see you again.