Schoolchildren celebrate Textbook Festival Day nationwide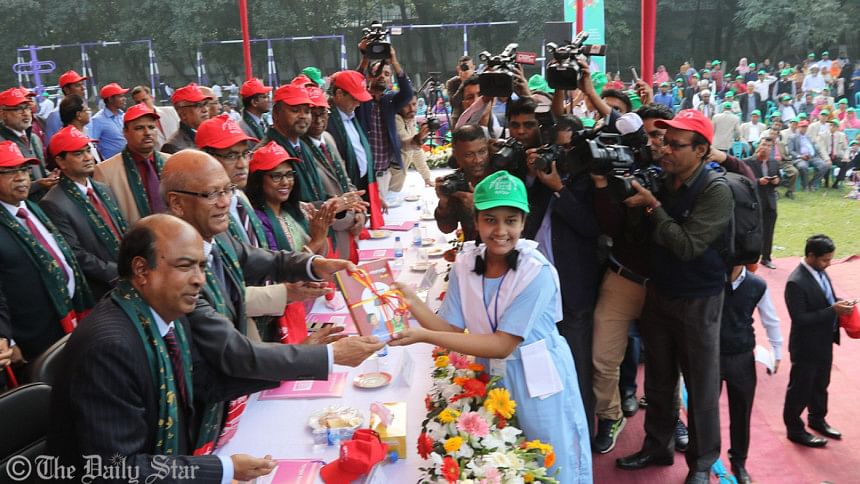 Nearly 44 million schoolchildren today celebrated the Textbook Festival receiving books free of cost for their new classes on the first day of the new year joining the festivity at schools and madrasas across the country.
Education ministry officials said 35,42,90,162 textbooks were distributed among 4,37,06,895 students of pre-primary, primary, ebtedayee, secondary, dakhil and technical students for the 2018 academic year as the schools and the other equivalent educational institutions staged ceremonies at their compounds to hand them over the newly printed books.
"This (festival) is the outcome of our (government's) sincere commitment to reach the books on the first day of the year," Education Minister Nurul Islam Nahid said joining one of the major ceremonies held at Azimpur Govt Girls High School and College in Dhaka.
Distribution of free textbook started since 2010 at both primary and secondary level, he said adding 260,85,91,290 copies of textbooks were distributed from 2010 to 2018.
Secretary of Secondary and Higher Secondary Education Division Md Sohrab Hossain, Secretary of Madrasa and Technical Education Board Md Alamgir and senior officials of the Education Ministry, among others, were present on the occasion.
Nahid said, "Free textbook is the gift of the New Year of the present government.....Distribution of free textbook is the milestone initiative of the government to check drop-out rate of students."
Jubilant students thronged their respective schools and madrasa compounds to collect new books.
A festive mood was seen among the delightful students when they joined book distribution ceremony at their respective educational institutions.
Nahid said Bangladesh has set a rare example in the world through distribution of free textbooks among large number of students on the first day of January.
He said in the past seven years, Bangladesh also made significant progress in education fulfilling different global targets including achieving gender parity in education before scheduled time.
Officials said 18,73,85,921 copies of textbooks were distributed among 1,30,35,574 students at the secondary level students.
A total of 10,36,24,405 copies of textbooks were distributed among 2,17,21,129 students at the primary level, they added.
A total of 1,49,276 textbooks were printed for 58,255 students of ethnic groups at the pre-primary school, they added.