Scanty rainfall hampers T-aman farming
Insufficient rainfall during the ongoing rainy season badly hampers cultivation of transplanted aman (T-aman) paddy in Thakurgaon and Panchagarh districts.
During a recent visit to different areas, this correspondent saw that cracks have developed on T-aman paddy fields while many farmers are planting aman plants by providing irrigation with shallow pumps.
Around 30-40% of targeted land in Thakurgaon and Panchagarh districts still remains uncultivated although the usual plantation period for aman paddy expires in mid-August.
The season consists of two Bangla months of Ashar and Shraban (mid June-mid August) and the yield declines if paddy seedlings are transplanted after this period.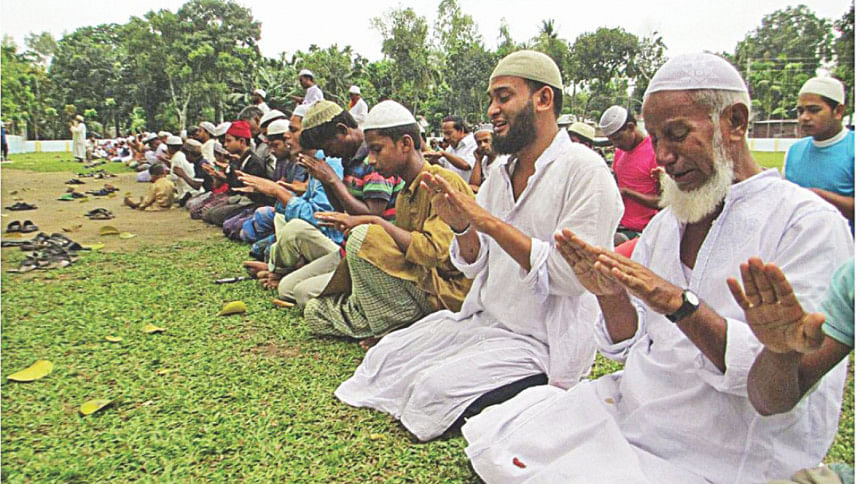 Aman, cultivated in the rainy season with the help of rainwater, is considered more profitable than Irri-boro paddy.
This year the Department of Agriculture Extension (DAE) in Thakurgaon targeted aman cultivation on around 1.30 lakh hectares of land with the production target of 3 lakh 54,940 tonnes of rice but about 98,000 hectares of land have been cultivated in the district till now (Sunday). 
In Panchagarh, farmers have transplanted aman on about 65,000 hectares of land while the DAE set a target to cultivate it on 94 thousand 65 hectares of land with the production target of 2 lakh 25,000 tonnes of rice.
Visiting different villages in these districts, it was found that seedlings in many seedbeds have attained 50-60 days although seedlings of 18-28 days of age are ideal for transplantation.
Finding no way many farmers prepared their lands with water drawn by shallow or deep pump machines and transplanted aman there but many others, mostly marginal farmers and sharecroppers, could not afford it and are still waiting for rain water.
It needs additional Tk 1500-Tk 2000 to prepare one bigha of land with irrigation water, farmers said.  
"I have prepared and cultivated aman plants on two bighas of land by providing irrigation that cost additional Tk 1,600. I had to do it as my seedlings were going to be overage," said Sirajul Islam, 55, of Barunagaon village in Thakurgaon Sadar upazila.
Samsuzzoha, 60, of Sakoya village in Boda upazila of Panchagarh said cracks have developed on two bighas of his transplanted aman land but he cannot afford to provide irrigation as he earlier incurred loss by cultivating boro paddy due to its low price.
Contacted, DAE Deputy Director Arshed Ali said, "We are yet to consider the situation as drought, but rainfall is needed soon for aman cultivation."