SC scraps Nizami's review plea, upholds death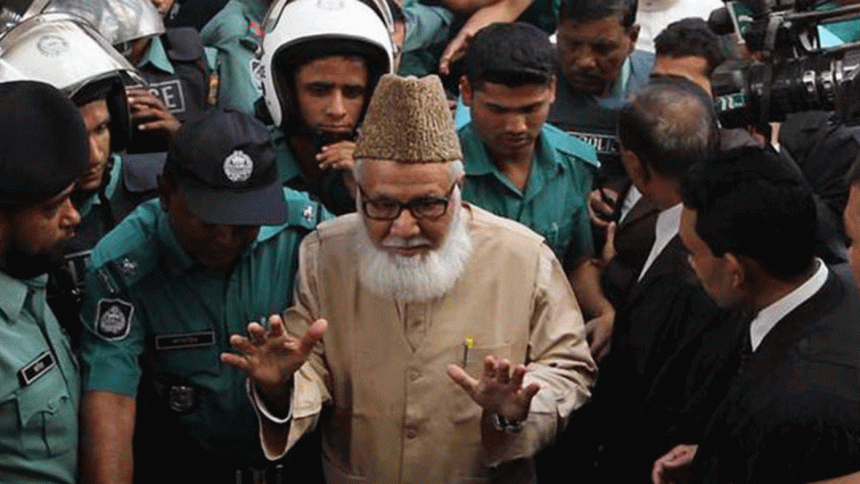 The Supreme Court has upheld death for war criminal and Jamaat-e-Islami leader Motiur Rahman Nizami, dismissing his review plea against the gallows.
Nizami, chief of the Jamaat party that opposed Bangladesh's liberation during 1971, was previously convicted of five war crimes charges including murder of intellectuals.
Now, after the review against death has been dismissed, the government can initiate Nizami's execution process. The final chance that he can avail is to beg for his life to the president.
READ MORE: Death for death designer
A four-member bench of the Appellate Division headed by Chief Justice Surendra Kumar Sinha passed the order. The agenda of Nizami's review was atop the cause list of the top court's bench.
Jail authorities can start preparation for execution after receiving today's order.
International Crimes Tribunal-1 handed death penalty to Nizami on October 29, 2014. The 71-year-old was also given life imprisonment in four other charges of war crimes.
This year on January 6, the apex court upheld Nizami's death in three of the charges. His death warrant was issued on March 15 after the Supreme Court's full verdict was released.
JUSTICE SERVED: PROSECUTION
Attorney General Mahbubey Alam expressed satisfaction over the apex court's decision and said: "The nation has been served justice."
Another prosecutor Tureen Afroz said: "Truth has been established through the verdict. Now we are waiting for SC's full verdict and Nizami's execution."
Sanaullah Haque, a co-coordinator of the International Crimes Tribunal's investigation agency, said the case was important as they faced challenges during probe and trial of the case.
Gonojagoron Mancha, a platform that has been marching for the capital punishment of war criminals, brought out a celebration rally in Shahbagh after the verdict.
Freedom fighter Zahir Uddin Jalal, also known as Bichchu Jalal, said: "It has been proved through today's verdict that Nizami is a rapist, killer and an agent of Pakistan".