SC to hear review pleas of Mojaheed, SQ Chy tomorrow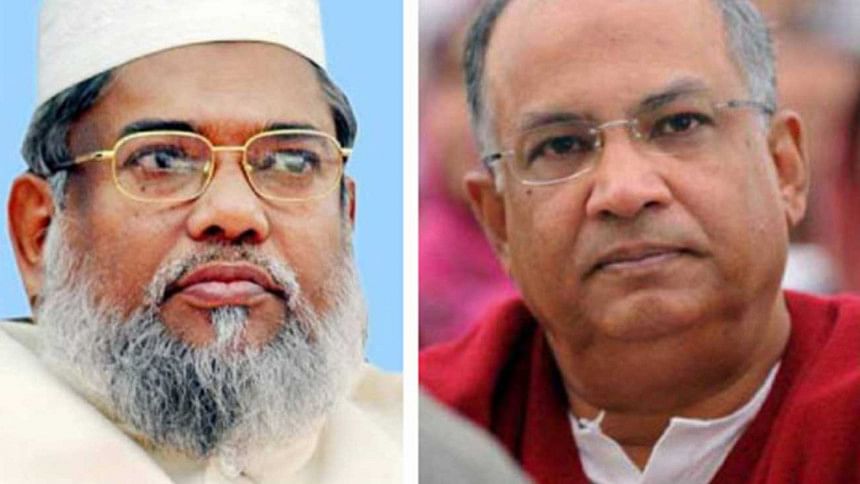 The Supreme Court is set to hold hearings tomorrow on the review petitions by two condemned war criminals--Ali Ahsan Mohammad Mojaheed and Salauddin Quader Chowdhury -- against its verdicts that upheld their death penalty.
The review petitions have been enlisted as item No 16 and 17 respectively in tomorrow's hearing list of a four-member bench of the Appellate Division of the SC headed by Chief Justice Surendra Kumar Sinha.
The Appellate Division also set tomorrow to hear another petition from Salauddin, urging it to record statements of eight persons, including five Pakistanis. This petition, filed by Salauddin on October 19, was included in his review petition. 
Jamaat-e-Islami leader Mojaheed and BNP leader Salauddin on October 14 submitted the review petitions to the SC through their lawyers seeking acquittal on all the charges brought against them.
In the review petitions, the condemned war criminals sought reconsideration of the SC judgments on the ground that they were sentenced for "offences committed by others".
The SC upheld the capital punishment of the two convicts in June and July after hearing their appeals against the verdicts of the war crimes tribunal.
The International Crimes Tribunal issued execution warrants for the two on October 1, a day after the SC released the full verdict.