Dyke collapses in Kalapara
Saline water damages crops on hundreds of acres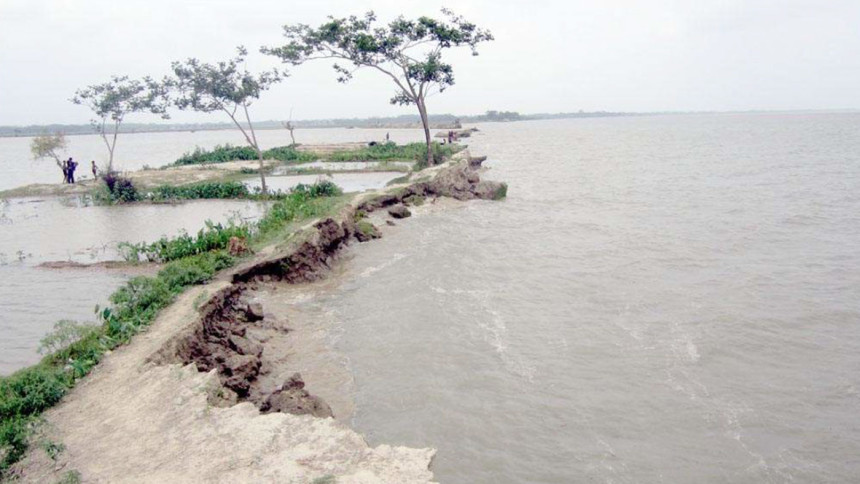 Different crops including watermelon, teel, mustard, maize, chilli, ground nut, and dal on several hundred acres of land at Devpur village in Kalapara upazila under the district got damaged due to salinity following collapse of an embankment on the Ramnabad River on Monday.
The incident affected around 500 farmers who were preparing to harvest the crops within a short time.
Tidal water from the Ramnabad River regularly enters the farmlands during the high tide since a 400-metre portion of the embankment collapsed under the pressure of the tidal surge influenced by the new moon, said Rustom Ali, 40, a farmer of the village.
"We cultivated different kinds of crops on our land and expected bumper yield but the disaster a little before harvest has left us frustrated," he said. 
"My mung bean on six bighas of land and chilli on three acres of land got damaged by saline water that entered through the damaged portion of the embankment. Crops of over 500 acres of land in the area have been totally damaged due to the same reason, said Rois Uddin, 70, of the same area.
Md Jakir Hosain, 35, another farmer of the area, said he cultivated watermelon and dal on three acres of land but all the crops were totally damaged as saline water entered the field after the embankment collapse. 
Cultivation of aman paddy in the area is also under threat if the embankment is not repaired soon, farmers said.
Abul Khayer, executive engineer of Water Development Board's Kalapara Circle, said, "We can build an alternative ring embankment to protect the farmlands from the saline water if locals agree to give their land free of cost. We have already informed the higher authorities of the matter for necessary steps."