Rohingya repatriation to begin in 2 months, deal inked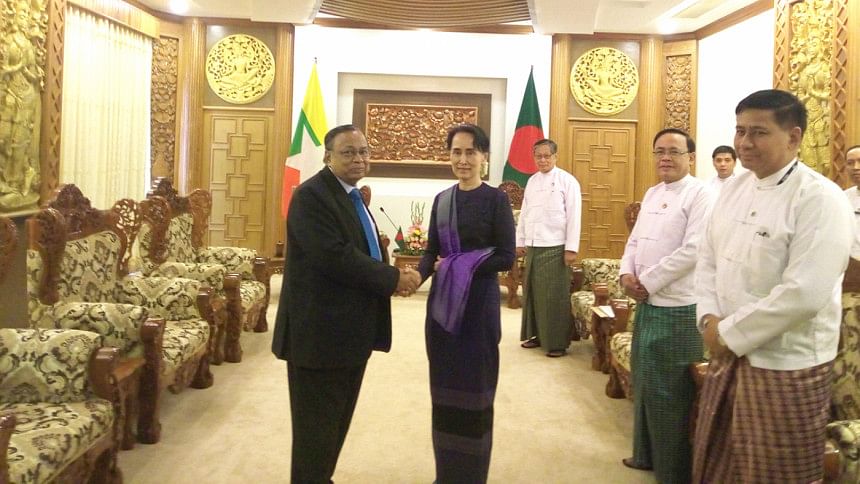 Bangladesh and Myanmar finally signed an 'instrument' on Rohingya repatriation on Thursday with no ending deadline amid high hopes that the forcibly displaced Rohingyas will start returning to their homeland within the next two months.
The two neighbouring nations struck the instrument in the afternoon following a meeting between Foreign Minister AH Mahmood Ali and Myanmar's State Counsellor Aung San Suu Kyi in the morning at Suu Kyi's office.
Foreign Minister AH Mahmood Ali and Myanmar's Minister for State Counsellor's office Kyauw Tint Swe signed the instrument.
They also exchanged ratification of the boundary agreement 1998.
OPINION: Is Bangladesh falling for Myanmar's ploy?
Minister Mahmood Ali made the disclosure of signing the 'Arrangement on Return of Displaced Persons from Rakhine State' after they reached a much-sought consensus on the Rohingya repatriation.
Talking to UNB, Foreign Minister AH Mahmood Ali said the repatriation process will start soon. "This is the first step. We'll start our second step work now."
Asked about deadline, he said there is timeframe but he will tell details in Dhaka and it does not make it clear whether Myanmar agreed on specific timeframe for taking back all the Rohingyas.
When approached, a diplomat told UNB that there no such timeframe over completion of Rohingyas repatriation. "Our best efforts were there."
The bilateral instrument was being negotiated by officials of the two countries for the last couple of months. 
On Wednesday morning, the senior officials of both countries negotiated the draft at their level. Later in the afternoon, Foreign Minister Mahmood Ali and the Union Minister U Kyaw Tint Swe resolved the remaining issues and finalised the draft after discussion.
The 'arrangement' stipulates that the return shall commence within two months, said the Bangladesh Foreign Ministry in a statement.
A Joint Working Group will be established within three weeks of signing the 'Arrangement'. A specific bilateral instrument (physical arrangement) for repatriation will be concluded in a speedy manner.
During the visit, Mahmood Ali and U Kyaw Tint Swe also exchanged the long-awaited "Instrument of Ratification" of the agreement on demarcation of the land section of the boundary north of the Naaf River concluded in 1998. 
The two countries also signed "Supplementary Protocol on the demarcation of a fixed boundary in the Naaf River" earlier agreed in 2007. 
Minister Ali also handed over three ambulances for Rakhine State as gift from the government of Bangladesh to the Union Minister of Social Welfare, Relief Resettlement U Win Myat Aye at latter's office in Nay Pyi Taw on Thursday morning.
The Foreign Minister will brief the media on Saturday.
He said since their houses are destroyed and burned in Rakhine State it might take time to create conditions for their living.
The government did not share what are the terms and conditions mentioned in the signed arrangement creating confusion on how the repatriation will be executed.
Earlier, Minister Ali's meeting with Suu Kyi began at 10:00 am (Myanmar time) and it lasted for 45 minutes.
Over 622,000 Rohingyas have crossed the border and taken shelter in Cox's Bazar district since August 25 amid persecution by Myanmar military in their Rakhine State.
Referring to the influx of Rohingyas to Bangladesh, Prime Minister Sheikh Hasina told a programme on the outskirts of Dhaka on Thursday that these Myanmar nationals are a burden on Bangladesh and urged Myanmar to start their repatriation soon.
Bangladesh in its senior officials meeting here on Wednesday raised the issue of keeping a provision for a timeframe over completion of the Rohingya repatriation, a senior official told UNB.
Dhaka also sought involvement of the international community, including the UN agencies in verification process.
Myanmar did not meet Bangladesh's full expectation on the repatriation timeframe as it only agrees on starting time but not the ending point, a senior diplomat told UNB.
Another diplomat said Myanmar wants to start the repatriation within the next two months from now.
He said Bangladesh wants to end the Rohingya repatriation by one year though Myanmar keeps it as an open-end one without giving any specific timeframe for completion.
On involvement of UN agencies in repatriation process, Myanmar shows a bit of soft position but nothing will be legally-binding one, an official told UNB.
Bangladesh and Myanmar, however, agreed on formation of joint working group at foreign-secretary level to start the repatriation process of all Rohingyas.
READ MORE: Amnesty against repatriation amid rights violation
Foreign Secretary M Shahidul Haque, Bangladesh Ambassador to Yangon M Sufiur Rahman and representatives from Home Ministry and Prime Minister's Office also attended the negotiations on Wednesday.
Earlier on Wednesday, the Foreign Minister and the Myanmar's Minister for State Counsellor's office had a marathon meeting when they discussed various issues of bilateral interest, including the Rohingya issue.
Soon after the one-to-one lengthy meeting, the Foreign Minister attended the ministerial meeting on 'Arrangement on Return of Displaced Persons from Rakhine State'.
The senior officials' meeting was co-chaired by Permanent Secretary of the Ministry of Foreign Affairs of Myanmar U Myint Thu and Bangladesh Foreign Secretary Md Shahidul Haque.
US Secretary of State Rex W Tillerson has said the United States will pursue accountability through US law, including possible targeted sanctions on Myanmar if the situation does not improve in Rakhine State.
"After a careful and thorough analysis of available facts, it is clear that the situation in northern Rakhine state constitutes ethnic cleansing against the Rohingya," said the US Secretary of State on Wednesday.
The international community is also watching the talks and its subsequent outcome as they want to see the safe and dignified return of the Rohingyas as quickly as possible.
READ MORE: Responsibility is Myanmar's, say diplomat
Amid mounting international pressure, Myanmar's de facto leader Aung San Suu Kyi on Tuesday said they have planned to sign a MoU with Bangladesh which will enable them to start the repatriation process of all the Rohingyas from Bangladesh to Myanmar.
European Union High Representative Federica Mogherini, earlier, expressed her hope that Bangladesh and Myanmar will reach a decision to sign a MoU and an agreement on safe repatriation of Rohingyas from Bangladesh.
She said the EU is supporting this process and will stand ready to accompany this process in the coming week.
Earlier, the foreign ministers of Asian and European countries, in general, agreed in many areas on Rohingya issue and asked for immediate cessation of hostilities, halting of outflow, early return of externally displaced Rohingyas from Bangladesh.
They also asked for implementation of recommendations of the Kofi Annan Commission for durable solutions.