Rescued trafficked Bangladeshis quizzed, to return home 'soon'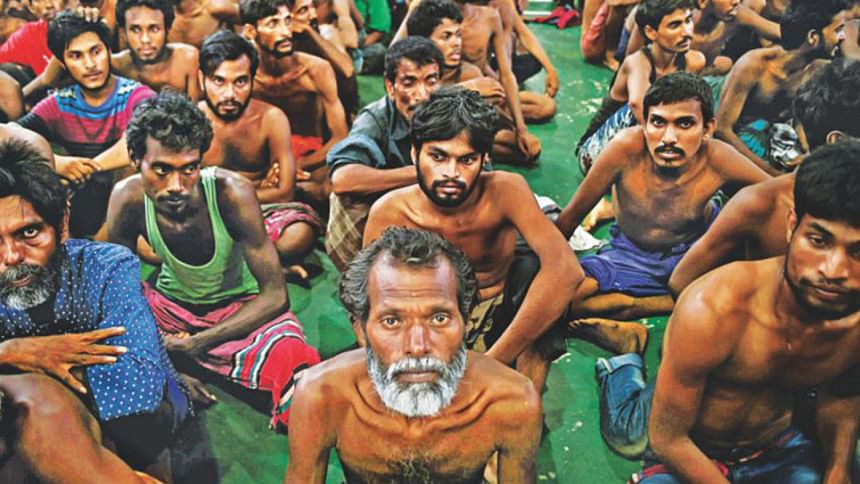 The Bangladeshis who were rescued off the Malaysian coast yesterday were taken in for questioning by Malaysian authorities, local authorities said today.
They were taken to Kedah immigration centre for inquiry about their illegal voyage, Begum Shahida Sulatana, first secretary (labour) to Bangladesh mission in Malaysia, told The Daily Star.
"Langkawi police informed us about 557 Bangladeshi nationals. Our counselor has already reached in Kedah immigration centre where the Bangladeshis will be asked about their illegal journey," she said.
All of them Bangladeshis are males, she added. The Malaysian authorities may deport them soon after the completion of necessary legal procedures, she mentioned.
"They may be sent back to Dhaka via air. The detainees have to bear the costs. If anybody fails, we will arrange their repatriation," Shahida Sultana mentioned.
Counselor (labour) Sayedul Islam told The Daily Star that he was talking to the Malaysian authorities about the repatriation of the rescued Bangladeshis.
At least 1,000 illegal foreign jobseekers including 557 Bangladeshis were dumped on the shore of Langkawi island of Malaysia after being held captive in the Thai jungle for weeks.
Local police suspect that they departed from Rakhine state in Myanmar and Bangladesh through their local syndicate and then sailed through to Thailand en route to Malaysia.