Rana sued for not reporting wealth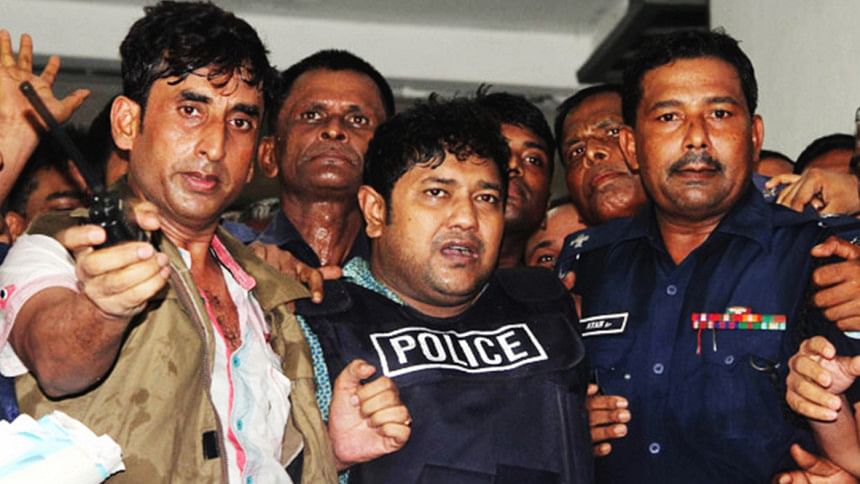 The Anti-Corruption Commission (ACC) today sued Sohel Rana, owner of the collapsed Rana Plaza, for his failure to submit wealth statement within the stipulated time.
"The case was field with Ramna Police Station following commission's approval as he did not submit accounts of his movable and immovable property," said ACC Deputy Director Mahbubul Alam, who filed the case.
The graft watchdog sent a notice to Rana through Kashimpur jail authorities asking him to submit his wealth report but he did not respond, the ACC official added
"Rana could seek seven days more but he neither submitted the report nor sought time," the deputy director said.
According to law, the respondents have to submit account of their all movable and immovable property within seven days after receiving a notice.
Earlier on May 15, 2013, the ACC's probe body investigating how Sohel Rana amassed his wealth submitted its report recommending the commission asks for Rana's and his father's wealth statements.
The probe committee also gave a list of moveable and immovable properties owned by Sohel Rana, owner of Rana Plaza, which collapsed on April 24 killing over 1,000 people.
Quoting the report, a source in the ACC said besides Rana Plaza, Rana owns a five-storey building in Savar, two-storey building in Manikganj, several pieces of land in and outside Savar municipality and two brick kilns.
Moreover, the nine-storey Rana Plaza was constructed over the last decade.
The probe body also traced several vehicles of Sohel Rana who has over 23 bank accounts with Exim Bank, National Bank, Dutch Bangla Bank and Brac Bank.
The committee then also found a fixed deposit account of Rana worth Tk 35 lakh.