Anti-Rampal activists urge govt to backtrack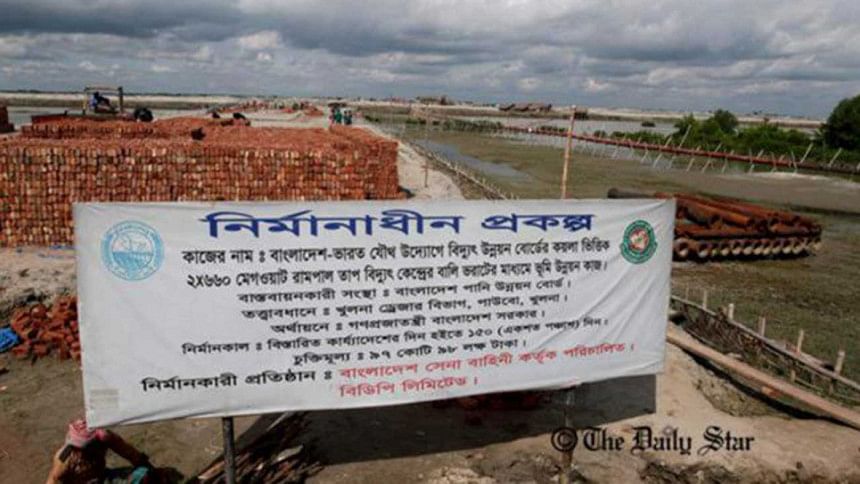 Environmental activists today once again urged the government to backtrack from its plan to implement the Rampal power plant project or else the world's largest mangrove forest the Sundarbans will be in danger.
Sundarbans Rakkha Jatiya Committee and Bangladesh Poribesh Andolon (BAPA) jointly made the call at a press briefing at Dhaka Reporters' Unity (DRU).
Speakers urged the government to stop the construction of the 1,320MW coal-fired power plant at Rampal fearing that it would destroy the harmony and ecological balance of the entire area.
Read More: DISASTER written on the wall
The press briefing was organised to inform media about a ten-day UNESCO World Heritage Committee meeting which will start today in Poland.
Whether the Sundarbans will retain its World Heritage Site status is likely to be decided in the UNESCO meeting, Abdul Matin, general secretary of Bapa said.
Read Also: Not merely a forest but life
Earlier, despite the government's assurance that the Rampal power plant would not harm the Sundarbans, the UNESCO stayed firm in its stance against the project and has again requested the government to cancel and relocate the plant to a more suitable place.
You may also like: Greenpeace study shows grim picture
Otherwise, the UN's culture and science agency may place the forest on the list of "World Heritage in Danger" next year, according to a report posted on its website October 18, 2016, Matin added.