RU students dislodge sculptures in protest
In a bid to materialise their demand for showcasing their works properly on the campus, a section of students of Rajshahi University's Faculty of Fine Arts dislodged the sculptures today.
"After this, the university authorities hopefully will give their attention in curating our works," our Rajshahi correspondent quoted a student as saying.

Our correspondent while visiting the campus found several dozens of sculptural works on wood and concrete were displaced from their original position.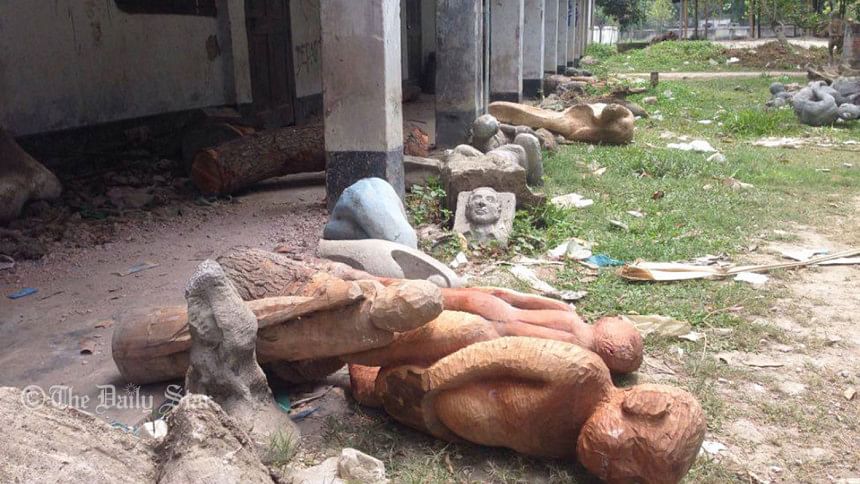 However, terming it "unacceptable", Dr Mostofa Sharif Anwar, chairman of Ceramics and Sculpture Department, told The Daily Star that how can a protest be staged in the darkness of the night?

"We have primarily identified seven students including Yusuf Ali and Imran Hossain Anik, both in their final years, who dislodged the arts works," Dr Anwar said.
In the current situation prevailing across the country, such mode of protest is unacceptable, he added.

"How can you (protesting students) protest in order to restore respect to the art works by showing disrespect to those at the same time," said renowned dramatist and teacher of the university Malay Kumar Bhowmik.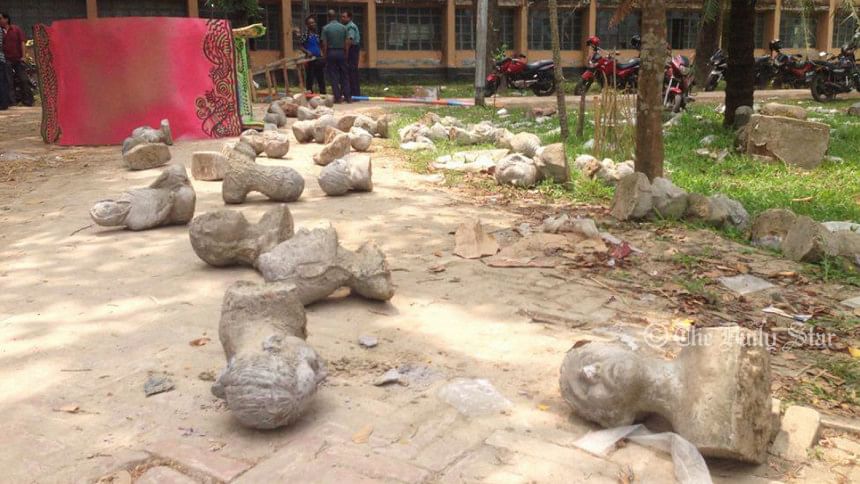 A meeting was being held between teachers and the protesting students at the faculty building around 11:00am over the issue, our correspondent added.

Moreover, many teachers and students criticised the way of the protest saying that such pieces of art should not have been handled this way.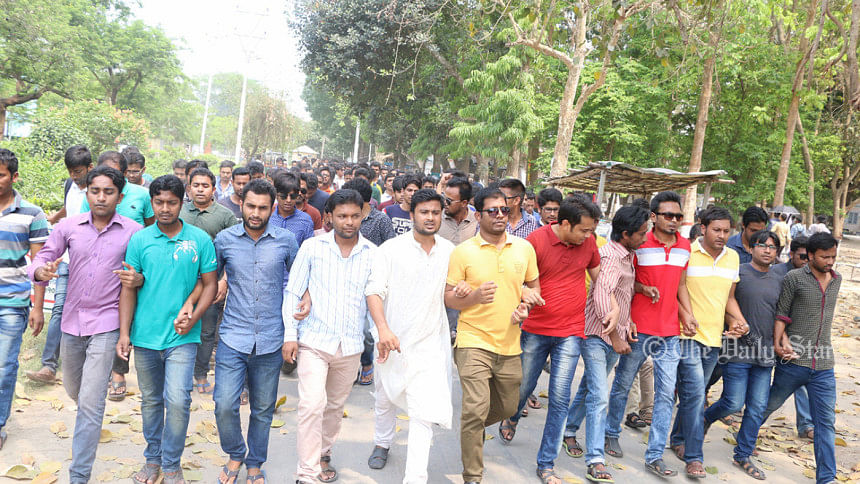 "Why did they destroy our work instead of going for a strike?" enquired a female student of the faculty.

They should have used the "traditional mode" for staging a protest, she added.

"As a cultural activist, I believe no honour can be restored for a creation, which I love at the same time, by destroying or dishonouring it," he said.

In a protest to the dislodging of the art works, leaders and activists of RU unit Bangladesh Chhatra League (BCL) brought out a procession in the campus today, reports our RU correspondent.