Sylhet's rail link restored after 16hrs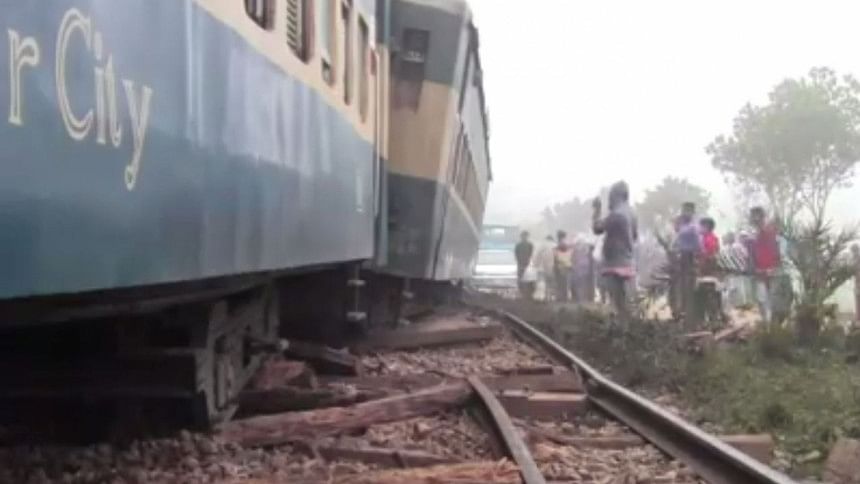 Sylhet's rail link to rest of the country was restored this afternoon, 16 hours after a train veered off the tracks and derailed in Sreemangal, Moulvibazar.
At least 11 compartments of the Dhaka-bound "Upaban Express" derailed at Satgaon station around 1:00am, our Moulvibazar correspondent reports.
Around 5:00pm, Sayedur Rahman, assistant director of Bangladesh Railway, told The Daily Star that salvage operation removed the derailed train and the lines were clear.
Shakhawat Hossein, station master of Sreemangal Railway Station, also confirmed The Daily Star that the lines were clear at 5:15pm. It would take a short while to resume train operation.
Mujibur Rahman, assistant engineer of Sylhet divisional office of Bangladesh Railway, said Rail Minister Mujibul Haque has instructed local lawmaker Abdus Shahid to form a probe body over the incident.
State Minister for Finance and Planning, MA Mannan was on the train when it derailed. He was unhurt and returned to Dhaka by car, said KM Nazrul, officer-in-charge of Sreemangal Police Station.
Sylhet-bound Upaban Express, Udayan Express and Surma Mail Express, and Dhaka-bound Parabat Express, Kalni Express and Paharika Express were delayed due to the derailment.