Public university teachers threaten strike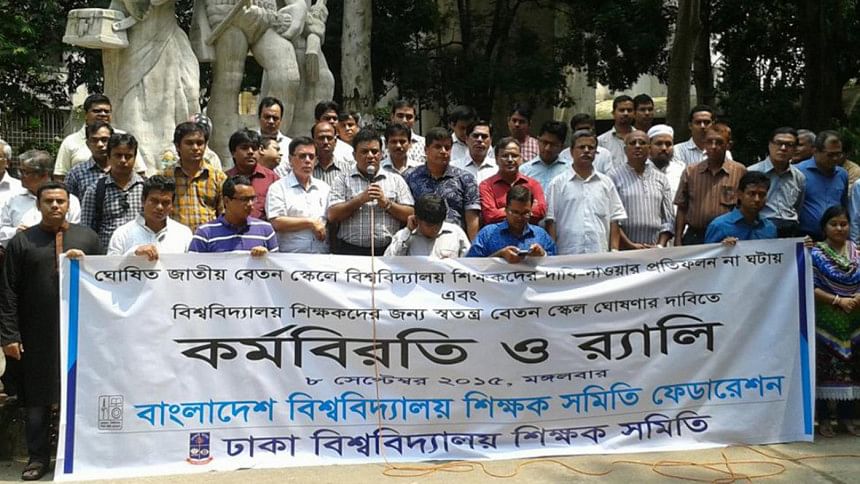 The teachers of public universities across the country have threatened to go for a campus strike if their demands regarding the "discrimination" in the 8th national pay scale are not met by December 31.
"We will hold a meeting on January 2 with teachers from all universities to come up with tougher programmes if our demands are not met by this month. The decision may be a complete shutdown (of the campuses)," said Prof Farid Uddin Ahmed, president of Federation of Bangladesh University Teachers' Association (FBUTA).
He came up with this announcement at a press conference at Dhaka University Teacher's Club today.
Meanwhile, teachers under the banner of Jahangirnagar University Teachers Association (Juta) announced work abstention from December 28 to January 2 to press home the demands.
At the press conference, ASM Maksud Kamal, general secretary of the federation, alleged that Finance Minister AMA Muhith had assured them of retaining the selection grade and time scale for university teachers in the 8th national pay scale like that of the seventh pay scale, but he did not keep his words.
He demanded a fresh pay structure reinstating the selection grade and time scale, and salaries for a certain percentage of the university professors equal to that of senior secretaries within a short time.
DU, JU and Chittagong University teachers' associations, in separate programmes, today urged the finance minister to make apology for his comments he made on Wednesday. Muhith had said that the demands of the university teachers were outcome of their ignorance.
Prof Farid Uddin said they got specific assurance from the minister but actually they were "deceived". He sought Prime Minister Sheikh Hasina's intervention into the matter.
"We met the finance minister on December 6 and he promised us to meet our demands. But we actually have been cheated by him (finance minister). Now we are left with nothing but adopting a stern protest," he said.
Prof Maksud echoed, saying the finance minster should step down for the sake of the country.
The public university teachers have been protesting the 8th National Pay Scale since May 14, advocating a four-point charter of demands that includes the formation of a commission to initiate an independent pay scale for public university teachers.
The other demands of the public university teachers are salary and allowance parity between senior professors and senior secretaries, and between professors and secretaries; upgrading the status of teachers in the warrant of precedence; and the provision of cars and other allowances for teachers similar to provisions given to bureaucrats.