Protest continues demanding justice for Tonu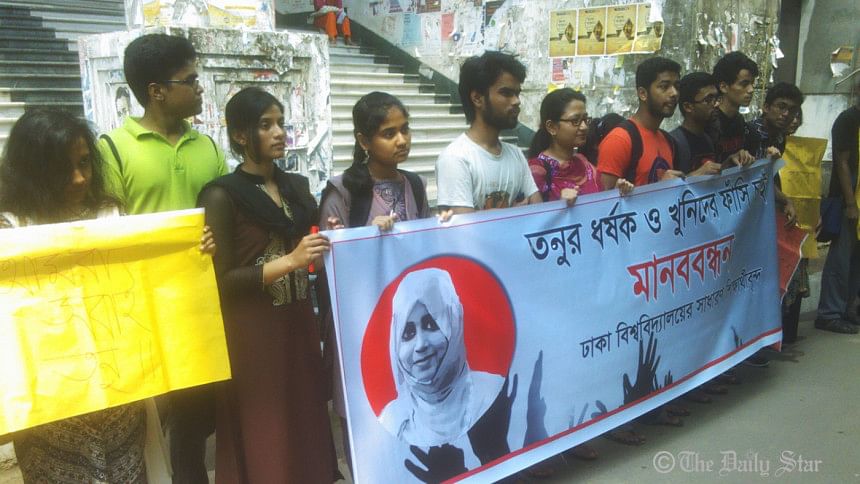 Students of different universities continue demonstrations at various parts of Dhaka demanding justice for the murder of Comilla Victoria College student Sohagi Jahan Tonu.
Hundreds of DU students held their hour long protest programme around 12:00pm demanding the immediate arrest of Tonu's killers.
Forming a human chain in front of the Social Science building, Sonjipon Sudip, one of the protesters, addressed a rally there and demanded the fair investigation of the killing.
Afrida Urbee, a student of the economics department, said, "We hold protests across the country demanding justice for Tonu but it goes in vain."
Later, they brought out a procession at the TSC area of the university.
ALSO READ: Protests rage on over Tonu murder
The teachers of Dhaka University (DU) also spoke out today strongly condemned the killing and demanded immediate punishment of the killers.
Also, Gonojagoron Mancha announced to hold 'citizen rally' all over the country including the capital's Shahbagh area and start a month long signature campaign from April 1.
Imran H Sarker, spokesperson of the platform said, "Students of many educational institutions today demonstrated for an hour against the brutal killing. We have marched toward Comilla; we will conduct road march towards the whole country if needed".
ALSO READ:Tonu murder protests gaining strength
ALSO READ: Army helping in probe into Tonu murder
Meanwhile, students of State University of Bangladesh also formed another human chain at Dhanmondi road no. 27 and blocked the road for a few minutes demanding arrest of the culprits who were behind the gruesome murder.
Besides, in a media release, the teachers under the banner of Dhaka University Teachers' Association demanded exemplary punishment to the killers identifying them through a fair probe.
Sohagi Jahan Tonu, 19-year-old, a second-year history student of Comilla Victoria College and a cultural activist, was found dead about 400 yards from her house inside Comilla Cantonment area on the night of March 20.