President, PM pay tributes to Rabindranath Tagore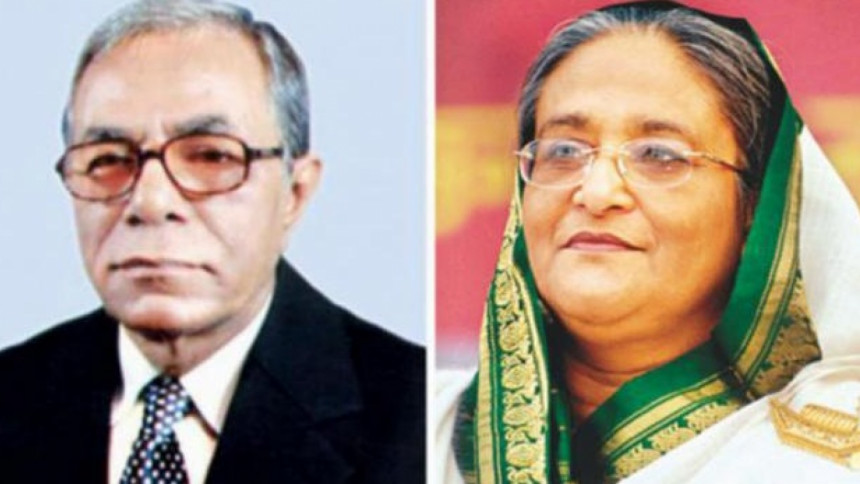 President Abdul Hamid and Prime Minister Sheikh Hasina today paid rich tributes to Biswa kabi Rabindranath Tagore on the eve of his 157th birth anniversary on 25th of Bengali month Boishakh.
President Abdul Hamid, in his message, said Kabiguru Rabindranath is a pioneer and brightest star of Bangla literature.
Bangla language and literature have not only been enriched with writings of the Nobel laureate, but the works of Tagore have become essential elements of world literature for their universal and artistic approaches, he added.
"Rabindranath's 'Amar Sonar Bangla, Ami Tumai Bhalobasi' is our national anthem which is a symbol of unity and harmony," the President said, adding the literatures of the poet gave strength and encouragement to the nation during any crisis.
His unique wisdom not only made him the symbol of creativity, but also his works were appreciated by the people across the globe, Hamid said.
Rabindranath was the first Nobel Prize winner from the Indian Subcontinent in Literature in 1913, he said, adding that with the achievement, the Bangali entity got a new dimension in the world.
Kabiguru was simultaneously a poet, playwright, author, philosopher and educationist, the President said, expressing hope that Rabindranath's presence in Bangla language and literature would keep the personal, national and cultural development dynamic.
Prime Minister Sheikh Hasina, in her message, said Rabindranath is the brightest star in world literature. A diversified genius, this time-winning poet has observed the world very profoundly, which has been reflected in his poems, short stories, novels, dramas, essays, travel stories, songs and arts, she added.
He was a poet of peace, humanity and an appreciator of eternal beauty of nature, the Prime Minister said.
She said the works of Rabindranath Tagore inspired all in the anti- British movement and all our democratic movements including independence movement and War of Liberation.
He (Rabindranath) was the infinite source of inspiration for the Bangalees for his thought of nationalism; she said, adding that "the poet's works touch us in our every crisis, merriment, sadness, hopes and aspirations."
Rabindranath was a pioneer of life-oriented education, the premier said, adding that his thoughts of education inspire all to acquire knowledge and building a science-based modern society.

Mentioning various literary works of the Nobel laureate poet, Sheikh Hasina said the greatest Bangalee of all time and Father of the Nation Bangabandhu Sheikh Mujibur Rahman conceived the poet's works as a source of inspiration in materializing into reality the dreams of Bangalee nation.
That's why, she said, Bangabandhu took his immortal poem "Amar Sonar Bangla, Ami Tomai Bhalobasi" as the National Anthem of Bangladesh.
She expressed her firm conviction that the presence of Poet Rabindranath in the thoughts would ensure the Bangalees' march forward in resisting communalism, exploitation and inhumanity.
"On the 157th birth anniversary of the legendary poet, we should vow for building a happy, prosperous, modern, non-communal and peaceful world," Sheikh Hasina said.