PM urges all to exercise tolerance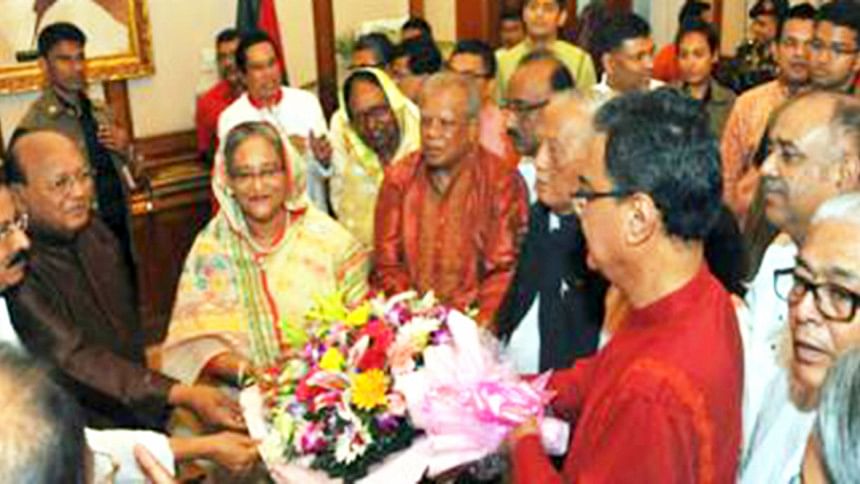 Extending her heartfelt greetings to all, including expatriate Bangladeshis on Pahela Baishakh, Prime Minister Sheikh Hasina today said everybody needs to exercise tolerance as it is essential for the country's uninterrupted development.
"There'll never be any development unless there's a peaceful environment in the country," she said when leaders and workers of her party met her marking the Pahela Baishakh at her official residence Gono Bhaban.
Sheikh Hasina also said the country's GDP growth is poised to reach 7.05 percent in the current fiscal year alongside a rise in the per capita income as there was a peaceful environment over the last one year.
Amid the peaceful environment, she said, people across the country, including rural areas, are celebrating the Bangla New Year, 1423, with much festivity.
"The Pahela Baishakh is being celebrated across the country spontaneously. I hope this New Year will bring more peace and prosperity for Bangladesh...we want the process of pace and development we've initiated to continue...we want the country move ahead further. We've been working tirelessly to this end."
Earlier, the ruling party central leaders greeted the prime minister with bouquets marking the Pahela Baishakh.
Turning to the criticism of some quarters and individuals of the government's restrictions on open space programmes after 5:00pm, she said the measures were taken on security grounds, and mentioned that bomb attacks even in the developed countries like Paris and Brussels and shooting in the USA jolted the entire world.
"We've the responsibility to ensure security of the countrymen. I hope everyone would abide by the guidance about the security measures," the Prime Minister said, posing a question: "Who would take the responsibility if any untoward incident happens?"
Without mentioning the name, she took a swipe at an eminent citizen for venting his anger on the restrictions, saying, "I want to say whether that person would shoulder the responsibility if any untoward incident happens."
Hasina said it is not at all acceptable to write something hurting religious sentiments of others. "We perform our religious rituals.
But, if anyone writes filthy words against our religion, why should we tolerate that?"
She said nowadays it has become a fashion to write something against religion as part of free thinking. "But, I consider such writings as not free thinking but filthy words. Why anyone would write such things? It's not at all acceptable if anyone writes against our rophet or other religions. This is a characteristic fault, expression of distorted or filthy mindset. I hope no one would write such filthy things."
Mentioning that as being a Muslim she follows the religious rituals and it hurts her seeing such filthy words against any religion, the Prime Minister questioned why the government would take responsibility in case of any untoward incident for such writings.
"Everyone should maintain decency. Otherwise in case of any uncivilised attitude, the government wouldn't take the responsibility."
About the killing out of vengeance for such writings, she said Islam does not permit it and Almighty Allah does not bestow the duty of trial on them.
"But, if anyone doesn't abide by the guidance of Almighty Allah and his prophet and thus kill people, it is 'Shirk'. I hope no one would indulge in such act," she added.
The prime minister also hoped that the pace of socio-economic development in various fields would continue. She mentioned that her government for the first time in the history of the country introduced Baishakhi allowance much to the joy of the public servants.
Expressing her firm optimism that the Bengali New Year would bring peace, prosperity and success for the countrymen, Sheikh Hasina renewed her vow to build a hunger -and poverty -free mid-income country by 2021 and a developed one by 2041.
Mentioning that the Bengalees observe the first day of the Bengali New Year as Pehala Baishakh with festivity, she said but many view it in a different way as some term it 'Hinduism' or many say they are
'Muslims'.
"But, despite being Muslims, we're also Bengalees and we should not forget that we've liberated our country fighting against the occupation forces as Bengalees. It's not like that we can't be Muslims being Bengalees."
Referring to the directives of Prophet Hazrat Muhammad (PBUH) not to do excess with the religion, she said Islam does not permit to threaten people and kill them in the name of religion through hurling bombs.
"Those who issue such threat actually malign our religion. For this, others get scope to raise question against our religion," she added.
Sheikh Hasina said from era to era, the country's people are performing cultural norms and rituals and observing their respective religious festivals with due fervour and festivity. Do those who issue threats against national, cultural and religious festivals, including Eid and Pahela Baishakh, really believe in any religion?"
Later, the guests were treated with traditional Bengali sweetmeats and fruits.
Industries Minister Amir Hossain Amu, Commerce Minister Tofail Ahmed, AL Presidium Member Sheikh Fazlul Karim Selim, Advocate Sahara Khatun and Satish Chandra Roy were, among others, present.