PM reacts, tells to protest Pakistan statement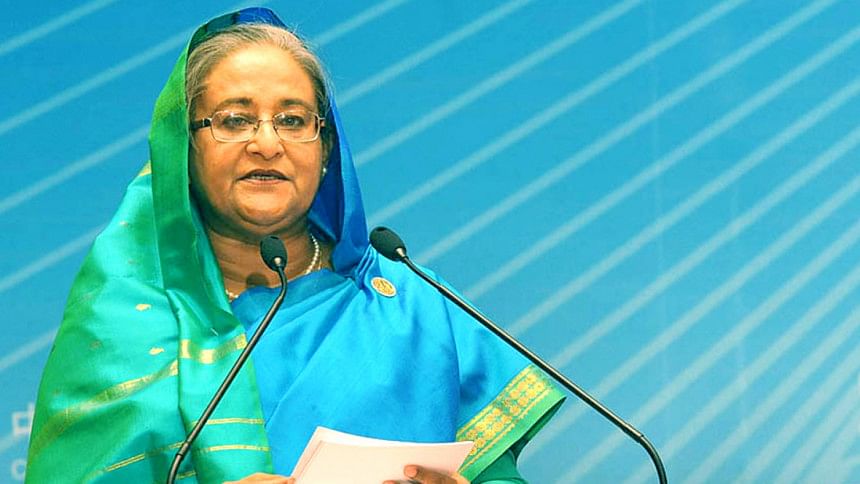 Prime Minister Sheikh Hasina today instructed the foreign ministry to lodge strong protest against Pakistan's statement on the execution of top war criminals Salauddin Quader Chowdhury and Ali Ahsan Mohammad Mojaheed.
"Pakistan interfered in our domestic affairs in the past too. It is not acceptable," she said at the start of today's regular cabinet meeting at the Secretariat in Dhaka.
READ MORE: Dhaka reacts sharply to Pak statement
Top BNP leader Chowdhury, a self proclaimed brigadier against pro-liberation forces, and ace Jamaat-e-Islami leader Mojaheed, chief of notorious Al-Badr force in 1971, were hanged on Sunday.
Afterwards, Pakistan issued a statement voicing "deep concern and anguish" stating there is "need for reconciliation in accordance with the spirit of Pakistan, India, Bangladesh Agreement of 1974".
The statement drew sharp reactions and Pakistan envoy in Dhaka Shuja Alam was summoned – hours after the statement.
The meeting was held this afternoon.
The heat continued on to the meeting table of the cabinet today and Prime Minister Sheikh Hasina came down hard on the issue, a minister present at the meeting told The Daily Star.
Hasina also criticised the role of some electronic media for highlighting the anguish of the families of the war criminals instead of the atrocities committed by SQ Chowdhury and Mojaheed in 1971.
"It can send a wrong message," the minister said quoting the PM.
Meanwhile, the cabinet approved draft of the Bangladesh Biodiversity Bill Act 2016, seeking to strengthen measures for preserving the country's biodiversity.
Briefing reporters after the meeting, Cabinet Secretary Mohammad Shafiul Alam said the proposed law highlighted biodiversity in Bangladesh perspective.
The cabinet also okayed drafts of Bangabandhu National Agriculture Award Fund Act 2016, Bangabandhu Science and Technology Fellowship Trust Act 2016 and National Standard Quality (goods and service) Policy 2015.