PM exchanges eid greetings with Bangladeshis in NY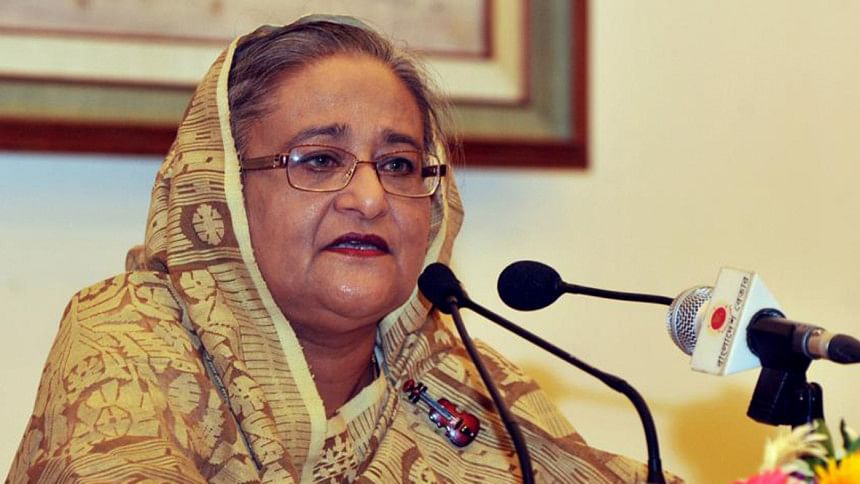 Prime Minister Sheikh Hasina, on her first day in New York, observed Eid-ul Azha, met Bangladeshis living in New York and exchanged eid greetings with them.
At a reception held at a local hotel, Sheikh Hasina briefly addressed the Bangladeshis and thanked them for their contributions to Bangladesh's economic advancement.
Organised by the Bangladesh Permanent Mission to the United Nations, the reception was attended by her entourage, including Finance Minister AMA Muhith, Foreign Minister AH Mahmood Ali, and PM's Adviser on ICT Affairs and her son Sajib Wajed Joy.
Speaking on the occasion, the Prime Minister recalled Bangladesh's success in realising most of the UN Millennium Development Goals (MDGs).
She said the UN is set to adopt a new set of development goals, called Sustainable Development Goals (SDGs), setting a global development agenda for the next 15 years. The Prime Minister pledged Bangladesh would meet the SDGs as well, and move to attain the status of a developed country by 2041. "We won't beg. Utilising our own resources, Bangladesh will forge ahead," she declared.
Without mentioning BNP or any other party's name, the Prime Minister deplored that in the past Bangladesh had suffered from natural disasters. "But now we have to confront man-made disasters. Those who cause such disasters are people's enemies," she said.
Bangladesh's Permanent Representative to the UN Ambassador Abdul Momen also spoke on the occasion.