PM distributes Nat'l Film Award among artistes, film professionals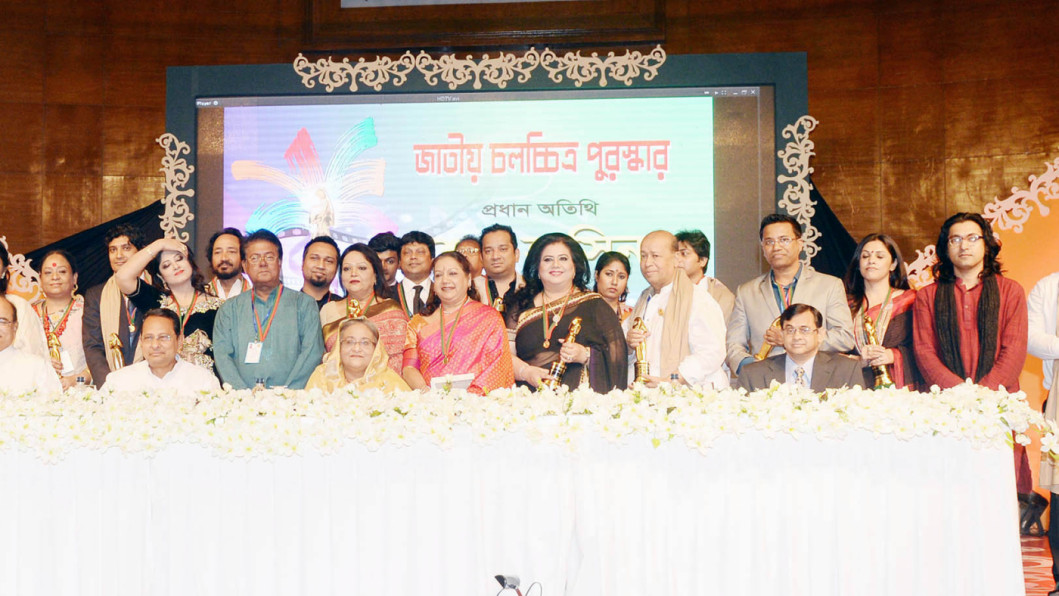 Prime Minister Sheikh Hasina distributed the National Film Award-2013 among artistes and film professionals in recognition of their outstanding contributions to the country's film industry today.

The awards were distributed at a colourful ceremony at Bangabandhu International Conference Centre this afternoon.

Noted actress and former Awami League MP Sarah Begum Kabari received the Lifetime Achievement Award at the function while Best film award went to 'Mrittika Maya' produced by Gazi Rakayet and Faridur Reza Sagor and Best documentary film award to 'Shunte Ki Pao' produced by Sara Afrin.

Titas Zia received the best actor award for his role in 'Mrittika Maya' while Shormi Mala and Mousumi jointly bagged the best actress award for the film 'Mrittika Maya' and 'Devdas' respectively. 

The other awardees are best director- Gazi Rakayet, best side actor - Raisul Islam Asad, best side actress - Arpana, best villain - Mamunur Rashid, best child actress- Swachchha, best child actress (special award)- Syeda Ahida Sabrina, best music director- AK Azad, best singer (male) - Chandan Sinha, best singers (female) - Runa Laila and Sabina Yasmin, best songwriter- Kabir Bakul, best lyricist- Koushik Hossain Tapas, best storywriter, best dialogue and best playwright- Gazi Rakayet, best editor- Shariful Islam Rasel, best art director- Uttam Guha, best photographer- Saiful Islam Badal, best sounder- Kazi Selim, best costume and decoration- Wahida Mallik Joly and best makeup man Ali Babul.

The Ministry of Information organised the function with its Minister Hasanul Huq Inu in the chair.

Chairman of the Parliamentary Standing Committee on Information Ministry AKM Rahmatullah, MP was present at the function as a special guest while Information Secretary Martuza Ahmed delivered the welcome speech.

The government on March 10 announced the names of the artistes and film professionals in 25 categories for the National Film Award-2013.