Rampal won't affect Sundarbans: PM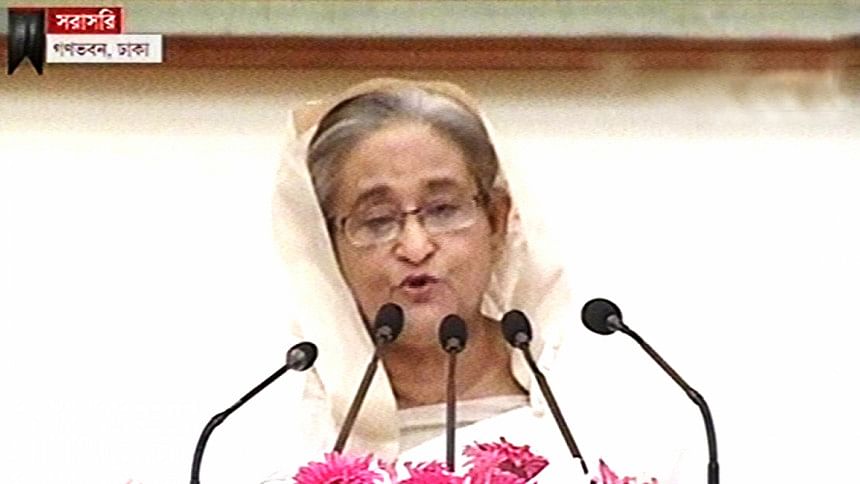 Prime Minister Sheikh Hasina today claimed that Rampal power plant project will not affect the world's largest mangrove forest Sundarbans.
Citing several facts and logic in favour of the project, Hasina has expressed her government's firm determination to build the power plant to meet the people's demand for electricity.
The premier was briefing the media at her official residence Gono Bhaban in Dhaka on the Rampal project close to the Sundarbans amid concerns over the coal-fired plant's environmental impacts on the forest.
Criticising  the people who are agitating against the power plant, she described BNP Chairperson Khaleda Zia as an instigator of the people.
"A group of the vested quarter is confusing people by spreading baseless and fabricated information over the issue."
The power plant site is about 14 kilometres away from the Sundarbans.
Environmental experts have warned that the Rampal project will cause substantial damage to the Sundarbans and its wildlife.
They say the project would harm the Unesco World Heritage site, as it would affect the climate, topography, land use pattern, wetlands, flora and faunal diversity and quality of air and water in the Sundarbans.
On July 12, the government signed an agreement with an Indian firm to set up the India-Bangladesh joint venture plant on the bank of the Pashur River.
The $1.49 billion plant is likely to start producing electricity in 2019. Seventy percent of the project cost would be covered by the Indian Exim Bank as a loan, and the rest by the governments of Bangladesh and India.