Perpetrators of recent killings can't escape justice: PM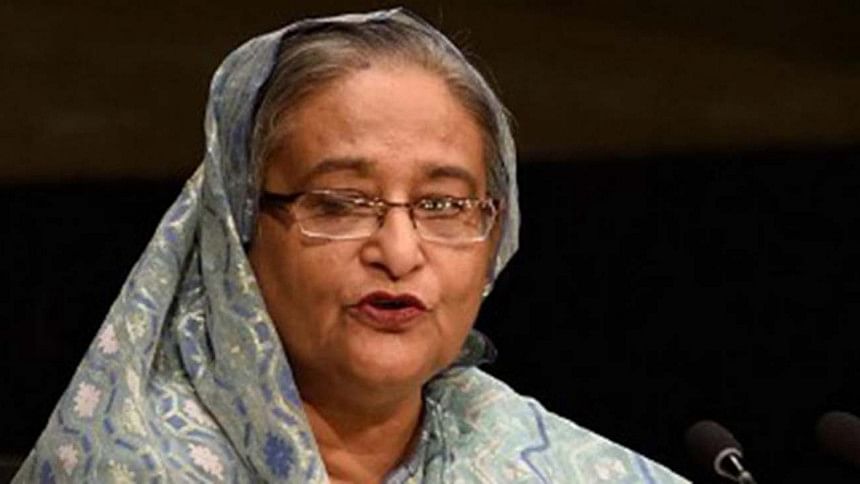 Terming the recent killings in Bangladesh as planned ones, Prime Minister Sheikh Hasina has said the perpetrators will surely be brought to justice.
"Whatever some isolated incidents (Killings) are taking place are planned ones. Whenever the trial of any war criminal heads towards the final stage, some quarters get engaged in killings. But, we've already started catching the culprits and they'll be brought to justice surely," she said when a delegation of expatriate Bangladeshis living in Bulgaria met her at hotel Marinela on Thursday night.
PM's Deputy Press Secretary Nazrul Islam briefed reporters after the meeting.
Hasina said her government has been working to ensure the proper security of all the citizens, irrespective of religion, caste and creed.
Mentioning the BNP-Jamaat nexus' countrywide mayhem and vandalism in 2013 and 2014, she said they had unleashed such atrocities through burning people to death just to save the war criminals and foil the January-5 national election. "But, the government contained the heinous acts with an iron hand."
Responding to the thanks extended by the expatriate Bangladeshis for holding the trial of the war criminals, she said Father of the Nation Bangabandhu Sheikh Mujibur Rahman had initiated that trial back in 1973.
Referring to the trial of killers of Bangabandhu, she said the Awami League-led government after coming to power in 1996 after long 21 years started the trial process although many were doubtful about that.
"We've already executed the verdicts of that trial and efforts are on to execute the punishment of those still absconding," she said.
About the long history of the Liberation War, the prime minister said the successive governments after 1975 had tried to distort the history of the long struggle and huge sacrifices people made for the cause of the country.
Hasina mentioned that her government has taken necessary steps so that the new generation could know the true history of the country's independence.
At the meeting, the prime minister heard with patience some problems the expatriate Bangladeshis are facing in Sofia and directed the authorities concerned to ensure the availability of consular services there.
Foreign Minister AH Mahmood Ali, State Minister for Women and Children Affairs Meher Afroze Chumki were present.