Pastor attack: 4 'JMB men' on 5-day remand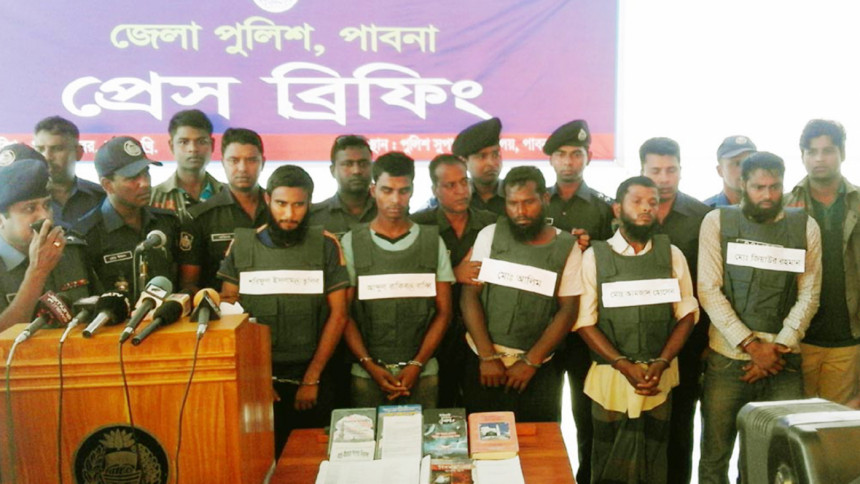 Four out of five suspected members of banned militant outfit Jama'atul Mujahideen Bangladesh, who were arrested yesterday over the attack on a pastor in Pabna, were placed on a five-day remand today.  
Judge of Pabna Cognizance court-2 Rezaul Karim passed the order after police produced the suspects -- Ziaur Rahman, 35, Shariful Islam Tulip, 22, Alim Pramanik, 36, and Amzad Hossain, 30, -- before the court around 11:00am, reports our district correspondent.
Another arrestee Rakibul Islam Rabbi was not placed on remand as he confessed before the magistrate about his involvement in attacking pastor Luke Sarkar in the district's Ishwardi upazila.
Rakibul was among the three motorbike riders who attempted to kill the pastor by slitting his throat, police said quoting him.
Two others who took part in the attack are Rakibul Islam Rakib, Pabna district commander of JMB, and Mohammad Shakil. The duo went into hiding since the incident, police said.
The five were shown arrested in two cases -- one filed by Sarkar and the other filed under the Anti-Terrorism Act with Pabna Police Station.
Sarkar, 52, pastor of Faith Bible Church in Ishwardi upazila, was attacked by three people at his home on October 5. He survived the attack with minor injuries.
He filed a case, accusing three unidentified people, with Ishwardi Police Station that night.
According to police sources, Rakib had been working to regroup the militant outfit in the district for the last one and a half years.
They were planning to create violence in the country and carry out attacks on foreign nationals, sources said.