Pakistan protests reports on diplomat's terror link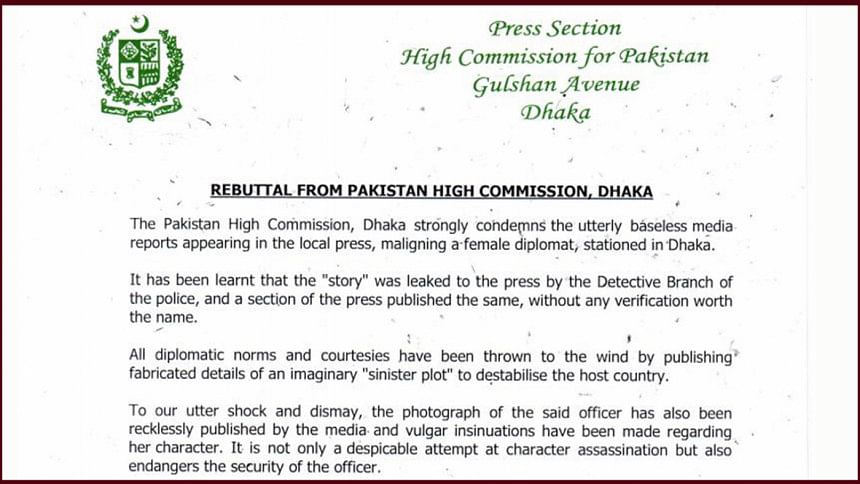 Pakistan today protested reports in Bangladeshi media on alleged involvement of one of its diplomats in financing terrorism here.
A media release was issued from the Pakistan High Commission in Dhaka termed the reports "utterly baseless" and "fabricated".
Diplomatic norms and courtesies were "thrown to the wind" by publishing such news, the release said.
READ MORE: Pakistani diplomat 'linked to terror financing' in Bangladesh
The news of a Pakistan diplomat's link to financing terrorism was quizzed out from a militant of banned Islamist outfit Jama'atul Mujahideen Bangladesh, according to detectives.
The information came during a strain in diplomatic ties between the two countries over Pakistan's denial about committing genocide in Bangladesh during the 1971 War of Independence.
Majority quarters have raised demands to sever diplomatic ties with Pakistan.
While talking on the alleged link of the Pakistan diplomat with terror financing, the home minister yesterday said Pakistan was still conspiring against Bangladesh.
State Minister for Foreign Affairs Shahriar Alam yesterday said, "Still we don't have any information and no one has informed us anything about the matter. We will take instant action after getting necessary information."
The government would take action in light of the Geneva Convention against the Pakistani diplomat if she was found guilty and her direct involvement was proved, diplomatic sources said.
"We will not hesitate to expel her immediately or give Pakistan a few hours to withdraw her after getting specific information from the home ministry," said a senior official at the foreign ministry.
Despite repeated attempts, they Pakistan embassy could not be reached for comments.
In January this year, Mazhar Khan, a Pakistani official working at the Dhaka mission, was expelled after Bangladesh intelligence accused him of funding Islamist radicals and peddling fake currency.