Pahela Baishakh celebrated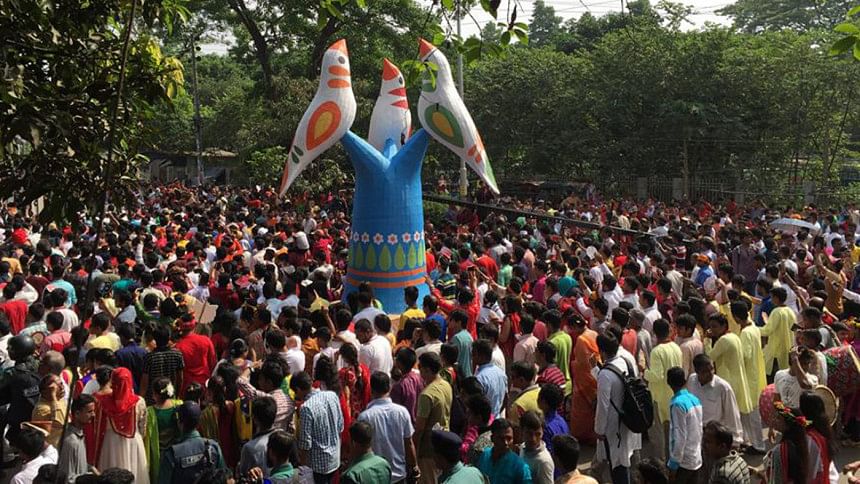 Pahela Baishakh, the first day of Bangla calendar, was celebrated amid traditional festivities and enthusiasm despite various restrictions prompted by last year's women assault on Dhaka University campus.
The festivities began at dawn yesterday with the artistes from Chhayanaut welcoming the day with Tagore's famous song 'Esho hey Baishakh, esho, esho (come O Baishakh, come)' under the banyan tree at the Ramna Park.

Also READ: Festivity all around
True to their centuries old tradition, people from all walks of life thronged different popular and historic spots in the capital and elsewhere across the country to welcome the Bangla New Year, 1423 with new hopes and aspirations for a better, peaceful year.
The celebrations of Pahela Baishakh have become an integral part of Bangalees since it began over six centuries back.
Mughal Emperor Akbar introduced the Bangla calendar in the 1556 of the Gregorian calendar in a bid to streamline the timing of land tax collection in the then 'Subah Bangla' region, the much of which falls under Bangladesh.
The day is a public holiday.

READ more: Pahela Baishakh, Halkhata, and memories
On the occasion, President Abdul Hamid and Prime Minister Sheikh Hasina greeted country's people and all Bangla-speaking people across the globe.
Traders and shopkeepers across the country opened 'Halkhata' (new book of accounts) and entertain customers and visitors with sweets on the first day of the New Year as part of the tradition and culture.
On every return of Pahela Baishakh, also the country's biggest cultural festival, people of all walks of life, especially the youths, come out on the roads at daybreak wearing traditional dresses to celebrate the day.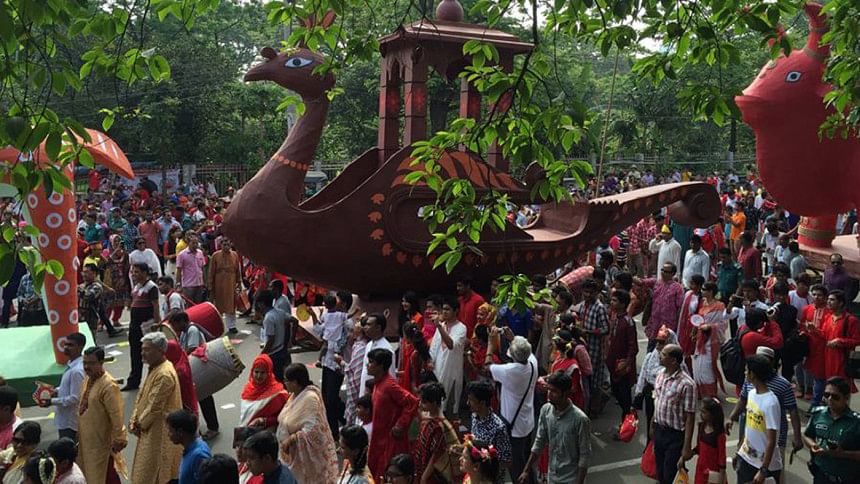 Students of the Institute of Fine Arts of Dhaka University took out a 'Mongol Shovajatra (procession of good wishes)' from in front of the institute around 9:10am yesterday as part of the carnival.
The procession ended at the DU campus after parading Karwan Bazar through Shahbagh.
Men, wearing panjabi-payjama, women attired in saris with red borders, and children in colourful dresses thronged traditional Baishakhi Mela (fair) and other cultural functions in the city and elsewhere in the country throughout the day.
People partook of 'Panta Bhat (watery rice)' with fried Hilsa, lentils, green chili and onions at home, restaurants and fairs following the rich tradition of Bangla culture.
Meanwhile, there were some restrictions of on the outdoor celebrations of Pahela Baishakh imposed by the Dhaka Metropolitan Police.
Dhaka Metropolitan Police directed all people not to enter Ramna Park and Suhrawardy Udyan after 4:00pm on Pahela Baishakh as visitors had to leave the two venues by 5:00pm.