OPINION: Rokeya's tolerance and magnanimity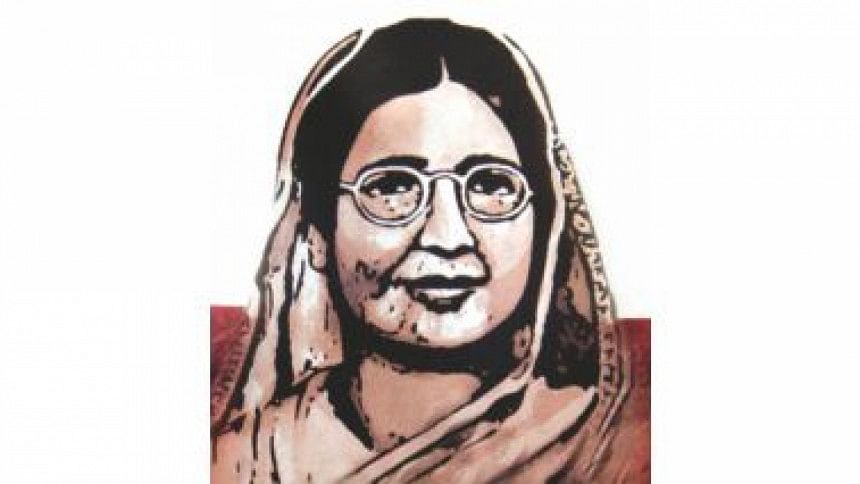 Rokeya Sakhawat Hossain (1880-1932) pursued her sustained literary, educational and political activism in the face of stiff social opposition from critics unwilling to accept her gender egalitarian messages positively. Failing to counter her reasoned arguments in favour of women's rights intellectually, they resorted to unfounded propaganda against her. For example, when Rokeya was advancing female education and working for her Sakhawat Memorial Girls' School and walking from door to door to collect students, she was reportedly accused of flaunting and advertising her youthfulness on the pretext of establishing a school.
Rokeya was not distracted at all by such remarks of poor taste amounting to character assassination from her noble goal of fighting gendered injustices and thus furthering shared causes of her community. She mostly ignored such personal attacks and did not answer back to her critics. Nor did she vituperate and write scathing, retaliatory materials to attack them. Along with her intellectual strength, literary feats and selflessness and tenacity to work for the advancement of society, perhaps, this magnanimity is one big reason why her ideas have made such a great impact and huge posthumous influence on the debate about women's rights and she is remembered with so much respect and admiration.
When Motichur-I was published in 1904, one reviewer commented that the book was inspired by the literature of the "Christian Tract Society" and accused her of pro-West bias thus: "To her whatever we have is bad and whatever belongs to Europe-America is good" (quoted in Rokeya Rachanabali, Bangla Academy, 1999: 557). Some of the possible reasons for this particular wrong allegation were the tendency to associate concerns for gender issues with the West and a nativist refusal to entertain any reformist criticism of society.
Rokeya was way above any blind imitation, or the caricaturing, of the West. She maintained a balanced approach while commenting on the then Indian and European life worlds. Despite the prevailing air of oppressive colonial rule and a growing anti-colonial resistant movement, she interacted with and benefited from Europeans who did not have racist reservations about communicating with the locals. In other words, unlike many of her contemporaries who thought it sinful to interact with Europeans, Rokeya made contacts and exchanged ideas with them. She did not believe that it was a religious or cultural misdemeanour to do so, even though the scope of such social interactions was seriously constrained due to the nature of colonial rule and the prevailing gender ideology of her society. She mixed with the Europeans but remained true to her own cultural and religious values and did not ape the European lifestyle and culture.
In a number of places in her writing, Rokeya refers to European women living in colonial Bengal as 'European sisters', which suggests that she maintained a friendly and courteous relationship with them. Rokeya was well-versed in the English literary tradition, as manifested in numerous references in her writing to British writers such as Jonathan Swift (1667-1745), Mrs. Henry Wood (1814-1887) and others. Importantly, her "Delicia Hotya" is actually an interpretative summary of Marie Corelli's novel The Murder of Delicia (1896). She translated a speech of Annie Besant (1847-1933) on Islam and titled it "Nur Islam" which is included in Motichur-II. Her indirect references to Mary Wollstonecraft's ideas are quite palpable in her writing even though she did not mention her name for strategic reasons. The then Commissioner of Bhagalpur Mr. McPherson read the manuscript of Rokeya's Sultana's Dream and appreciated it highly.
Rokeya's tolerance and broadmindedness was manifested not only in her friendly and congenial attitude to the Europeans but also to the non-Muslim communities of her society. Although before the colonial incursion of Europeans in India, various religious groups in the region had lived in harmony for centuries, during British rule communal tensions soared largely because of the colonial tactic of 'divide and rule'. Hindus and Muslims became increasingly intolerant to each other and Muslims' beef-eating became a regular excuse for bitterness between these two religious groups. Rokeya was magnanimous enough to rise above all such communal disharmony, narrow-mindedness and parochialism. She worked across racial and religious boundaries. Her writings were published in periodicals run by Muslims as well as in those run by Hindus.  
Rokeya's open-mindedness is also demonstrated in the portrayal of characters in her various creative pieces. Although she lived and wrote in India and her works deal principally with the gendered experiences of Muslim women, she included a host of European/white, non-Muslim characters in her writing: Sister Sara in Sultana's Dream; Bimala in "Nurse Nelly"; Kangalini, Darpa, Prabin, Nabin, Srimati and Sumati in "Muktiphal"; Din Tarini (Mrs Sen), Biva, Nalini, Usha, Charubala, Saudamini, Saratkumar, Dhirendra, Robinson, Helen and Reverend Henry White, among others, in Padmarag. Thus her oeuvre is marked by an increased density of cultural interactions and harmonious, communal coexistence of people of various religious, racial and ideological affiliations. And this reflects her immense tolerance of people who did not necessarily share her belief or way of life.
In the current political climate of intolerance and hostility in Bangladesh, religious bigotry and narrow-mindedness in the Indian subcontinent and the brooding atmosphere of prejudice and racism and a steady procession of one war after another globally, Rokeya's example of tolerance and magnanimity can be a panacea only if people are ready to heed messages, and follow examples, like hers.
•        The author is an associate professor at Department of English Language and Literature, International Islamic University, Malaysia