Villagers come forward to prevent dengue in Khagrachhari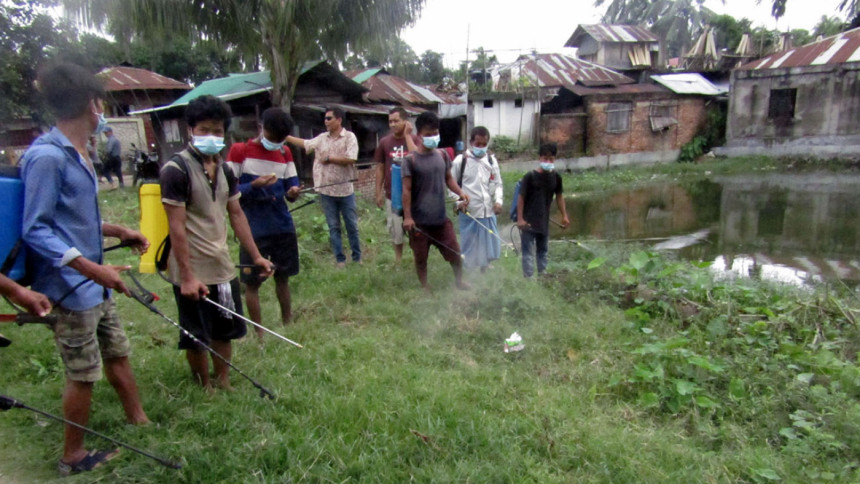 Villagers of Pankhyapara took some measures from today to prevent dengue, a mosquito-borne disease, in Khagrachhari Sadar as it has taken an alarming turn across the country.
With the help of Khagrachhari municipality, youths of the village joined in spraying pesticide to eradicate mosquitoes from the area in the morning, our local correspondent reports.
A total of 12 municipality workers along with the volunteers of Marma Unnyon Sansad and Marma Jubo Kalyan Sansad sprayed pesticide in the houses, drains and garbage piled up in Pankhyapara village.
Monger Marma, councillor of ward No. 7 of the municipality, is overseeing the workers assigned to spray pesticide in the locality today.
Nayan Moy Tripura, resident medical officer (RMO) of Khagrachari District Sadar Hospital, said that in the last 20 days, 88 patients have been treated at the hospital.
Mongnu Marma, president of Marma Jubo Kalyan Sangsad, said that 41 dengue patients have been infected in Pankhyapara area. Some of them received treatment from home while the others were admitted to the hospital.
Therefore, the authorities have been continuing awareness campaign with the help of villagers to prevent dengue.
Mangare Marma, councillor of ward No. 7 of the municipality, said: "Our workers are involved in spraying pesticide to kill mosquitoes. Now, the villagers have voluntarily come forward, they are being provided pesticides and I am supervising this. Hopefully, the disease will remain under control".