Untimely rain, climate change hit mango growers hard in Lalmonirhat, Kurigram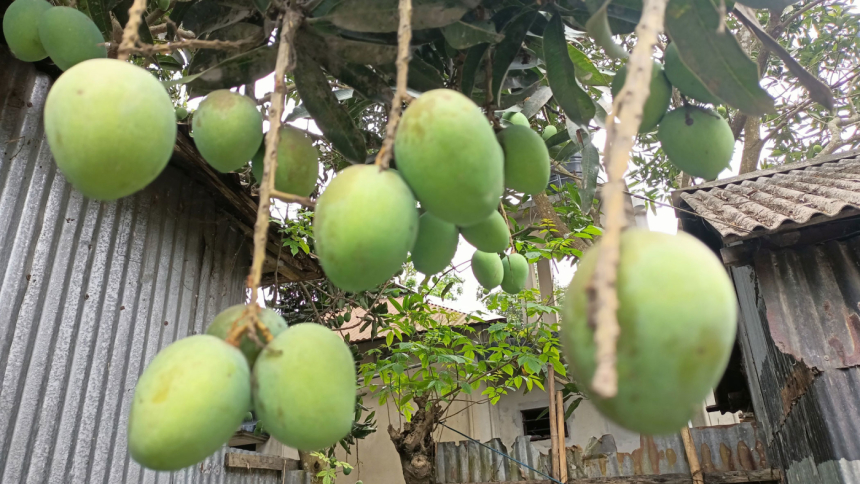 Most of the mango trees have yielded much less than usual in several northern districts and the fruits have dropped before reaching maturity due to untimely rains this year. Consequently, mangoes have a thin presence in the local markets.
Narendra Nath Barman, 55, a farmer of Bhatibari village in Lalmonirhat Sadar upazila, said that he has eight mango trees in his homestead but no tress has borne fruits this year. The mango trees began to bud but those fell off due to lack of rain.
"Last year, I sold mangoes for Tk 25,000 after the meeting the needs of my family and relatives," said the farmer.
"But this year I have to buy mangoes from the market for my family as my trees did not bear any fruits," he also said.
Shahidul Islam, 64, a farmer from Mahendranagar village in Lalmonirhat Sadar upazila, said he has never seen such fruitless mango season in his entire life. "Not only my trees but also the trees of the entire village are fruitless this year," he said.
The mango buds could not survive due to untimely rains and so there has been no yield this year, he added.
Nazrul Islam, 60, a farmer from Harishwar Taluk village in Kurigram's Rajarhat upazila, said the mangoes are falling off the tree before reaching maturity.
Delowar Hossain, 50, a farmer from Jatrapur village in Kurigram Sadar Upazila, said he has mango trees on three bighas of land. Although all the trees had buds, only 10 percent of the trees have borne fruits.
Ataur Rahman, 45, a fruit trader at College Road in Kurigram town, said that he used to sell local variety mangoes at this time at this time, but this year there is no local mango.
"I have learned from the farmers that they have a very low yield of mangoes this year," he said adding that the mango market will depend on outside mangoes this year.
Manjurul Haque, deputy director of the Kurigram Department of Agriculture Extension (DAE), said that most of the mango trees did not bear fruits due to untimely rains. He mentioned that it is the effect of climate change.
Deputy Director of DAE in Lalmonirhat Shamim Ashraf also said the same. He added that local people are seeing mango crisis in this region for the first time. There are mango and jackfruit trees in every farmer's homestead in this region.