Stop sand extraction from river near Sheikh Hasina Titas Setu: HC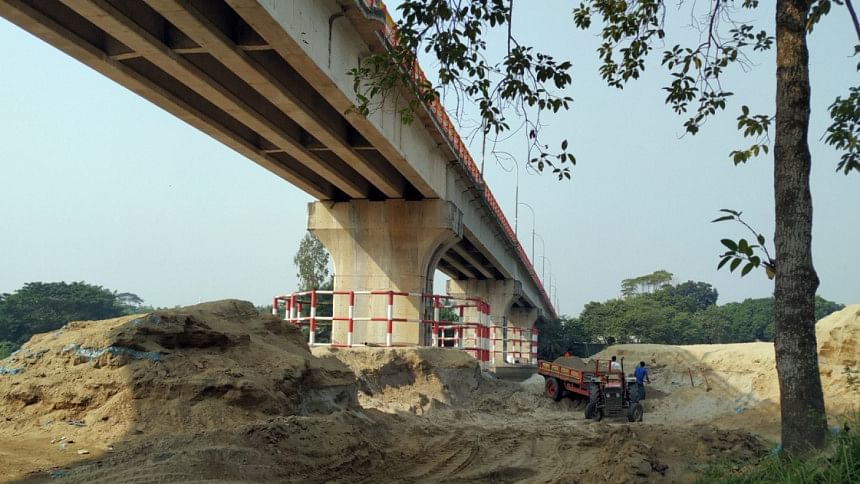 The High Court today ordered the government to stop sand extraction from Titas river near Sheikh Hasina Titas Setu (bridge) at Banchharampur upazila in Brahmanbaria in 48 hours in order to protect the eye-pleasant bridge and flow of the river.
Issuing a suomoto (voluntary) rule, the court asked the authorities concerned of the government to submit a report before it after complying with the directive in a month.
In the rule, the HC asked the authorities to explain why their inaction to protect Sheikh Hasina Titas Setu, the first Y-shaped bridge in the country, and flow of Titas river should not be declared illegal.
The HC bench of Justice M Enayetur Rahim and Justice Md Mostafizur Rahman came up with the order and rule following a report published on The Daly Star on December 25 last year under a headline "Illegal sand trade poses threat to Titas bridge".
Advocate Cumar Debul Dey, a Supreme Court lawyer, placed the news report before the HC bench for necessary order on the government to protect Sheikh Hasina Titas Setu and flow of Titas river.
The Daily Star report said at a time when the government is conducting drives against river encroachment, an influential sand trader is not only constricting flow of the Titas river by occupying its bank, but also endangering Sheikh Hasina Titas Setu over the river.
Ignoring the risk posed to the Tk 94-crore bridge that the prime minister herself inaugurated last year, the sand trader, Saidul Islam, has taken up several bridge piers that he is using to make an enclosure where he stockpiles sand for sale.
Moreover, the sand stockpiled in the enclosure is being lifted from the river right below the bridge -- another violation of the law.
Sheikh Hasina Titas Setu, 771.20 metres in length, has become a popular site to visit among locals and is an alternative route option for travellers going to Chittagong from Dhaka and vice versa.
Such an asset of the country is under threat, but the authorities concerned seem to be indifferent to their duties, alleged many locals, the report said adding that Saidul has been allegedly conducting sand trade for a year in a similar fashion by occupying the bank of the Titas in Charlohania area under Fardabad union of the same upazila as well.