'Stop illegal sand lifting from Jamuna river'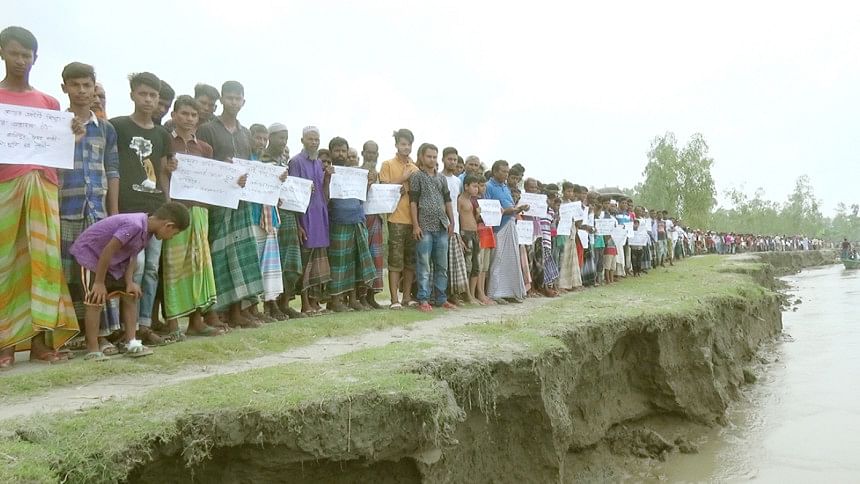 Several hundred inhabitants of all ages from villages under three unions of Tangail yesterday formed two separate human chains in protest at unauthorised sand lifting from the Jamuna river.
At noon, men, women and children from seven villages -- Alipur, Bhoirbari, Singuli, Char Poulee, Khakchhara, Beltia and Afzalpur -- under Gohaliabari and Durgapur unions in Kalihati upazila formed a human chain for an hour along the Jamuna riverbank in Alipur area of Gohaliabari union.
About the same time, the second human chain was formed alongside the river in Kakua union of Tangail Sadar upazila by residents of the union.
Holding out placards and banners, many inscribed with messages such as "we will lay down our lives, but will not give away the sand", the villagers demanded putting a stop to indiscriminate sand-lifting that has been causing erosion of the riverbanks.
Speakers during the events said the erosion of Jamuna has worsened over the past few years and a vast swathe of croplands and numerous dwellings were devoured by the river as sand lifting with powerful dredgers have been going on unabated by those with vested interests.
They demanded the higher authorities take immediate action against the sand lifters and urged the prime minister to take stern action against negligent government officials concerned.  
Gohaliabari resident Noor Hossain alleged that local Union Parishad (UP) Chairman Hazrat Ali Talukder has been illegally lifting sand from the river for the last few years, contributing to the erosion of the riverbanks.
Anyone raises objection to the UP chairman's unlawful act becomes victim of various types of harassment including being accused in false cases filed by him, he also claimed, adding that the local administration did not pay heed to their repeated complaints in this regard. 
In the last few years, the erosion of Jamuna and its branches, including Dhaleshwari, Pungli, Jhinai Louhajang and Elongjani, took a serious turn in Kalihati, Bhuapur, Tangail Sadar, Mirzapur, Basail, Delduar and Nagarpur upazilas, devouring several thousand dwellings, a vast tract of croplands as well as embankments and roads.
Locals said the severe erosion is a result of unauthorised dredging of the river with the use of powerful dredgers by sand traders having the blessings of a section of local politicians and government officials concerned.
For the last one decade, the influential sand traders have also been operating at least a dozen illegal docks encroaching on the eastern bank of the Jamuna near the Bangabandhu Bridge in Bhuapur upazila, they also alleged.