Safety of thousands compromised for decades
Residents of ten villages in two unions of Dighinala upazila await a permanent bridge on a hilly river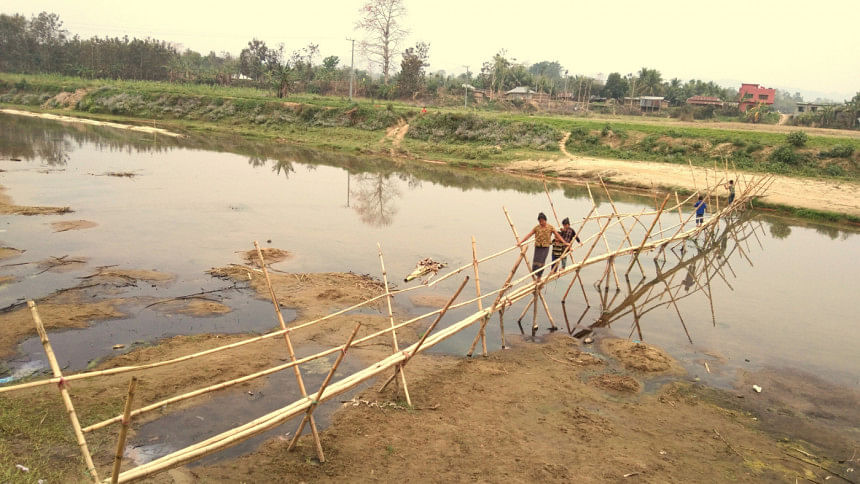 Thousands of residents in ten villages under two unions of Dighinala upazila have been risking their lives to cross the Maini river for ages, without a permanent bridge on the hilly river.
The residents of Boalkhali and Dighinala unions have been making a makeshift bamboo bridge, about 300 feet long, on the river during the dry season every year. They cross the river in boats during the monsoon when the river swells up, damaging the makeshift bridge.
A significant number of the people who cross the river on a daily basis are school children of all ages. 
Farmers and others whose livelihoods depend on reaching their produce and goods to nearby markets across the river also face immense sufferings every day.    
Villagers said nearly 13 years ago, in 2007, four people died after they fell into the river while crossing the bamboo bridge. But after all these years, the authorities are yet to take any step to ensure a safe passage over the river for thousands of citizens.    
During a recent visit to the area, this correspondent saw how people from all walks of life, especially students and farmers, cross the risky bridge to go about their everyday business.  
Sudarsan Chakma, from Katarung Chhara in Bowalkhali union, said the bridge is the only means of communications for all the surrounding villages and they suffered severely during the last rainy season when the bridge got damaged due to strong current.
"The bridge has to be repaired immediately... before things get worse again this monsoon."  
Kamal Chakma, another resident of the same village, said school going children suffer the most during the rainy season.  
"Without a bridge, the farmers also can't transport their produce and goods to the weekly market during the monsoon. We would be relieved of the sufferings if a permanent bridge was made on the river urgently," he added.
Echoing the sentiment, Tito Chakma, of Udal Bagan village in Dighinala union, said they have endured years of sufferings and the authorities should take steps before the upcoming monsoon to ensure safe communications for the villagers.  
On way to his school, Rupesh Chakma, a tenth grader at Udal Bagan High School, said they risk their lives while crossing the river to and from their school every day and a permanent bridge over the river would make their lives safer.
Buddha Sadhon Chakma and Pinki Chakma, SSC examinees from the school, said many of their classmates sustained injuries while crossing the bridge.
Newton Chakma, an assistant teacher at the school, said most of the 525 students enrolled at the school live across the river and they put their lives in danger on a daily basis to cross it.
Contacted, Bowalkhali Union Parishad Chairman Chayan Bikash Chakma said, "A concrete bridge would benefit thousands of residents in the two unions... I already wrote a letter to the authorities, urging to build a bridge [on the Maini river]. I hope the authorities will take steps [in this regard] soon."