Rare disease paralyses lives of three siblings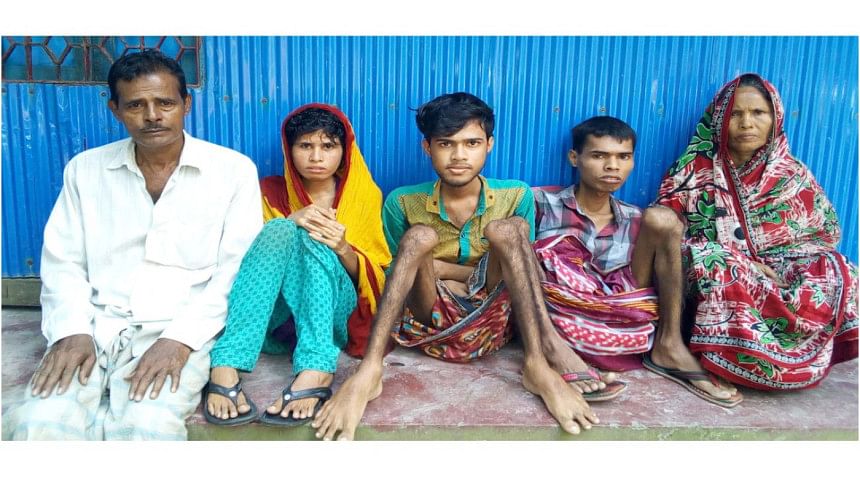 Three siblings, all infected with a rare disease, are passing inhumane lives as they almost lost the ability to walk or even stand on their feet.
Although the victims' parents, residents of Fatejangpur village in Kabirhat upazila, took the trio to a number of doctors in Noakhali and Dhaka in the last 13 years, they did not find any result.
Having lost everything they had, including their homestead, for their treatment purpose, now the family took refuge to one their relative's land.
"We don't know where we will stay in future. I guess untold suffering is waiting for us in the coming days," father of the three Abdul Khalek said.
Khalek, a day labourer, and his wife Jaitunnessa have seven children. Although four of their children are normal, the rest three are infected with the rare disease.
The victims, Marjahan Begum, 25, Yunus Nabi, 20, and Yasin Nabi, 17, were born like any other normal babies and grow up normally till 2006.
In 2006, Marjahan, then a Class VII student, suddenly had a severe fever and instantly fell on the floor of her classroom.
She was immediately rushed to her home and the girl lost the ability to stand on her feet since then.
Later, the lower part of her body started shrinking gradually and at one stage, her lower part becomes paralysed, family members said.
Sadly, Marjahan's two younger brothers -- Yasin and Yunus -- embraced the similar fate when they were students of Class III and V respectively in 2008 and 2011.
"After selling all our land and homestead we have taken shelter at one of our relative's land, Jaitunnessa said, adding that, "We don't know how long we will be allowed to stay here."
While talking to the villager, many of them urged the government and well off citizens of the society to extend their helping hand towards the struggling family and arrange their treatment facilities.