Piren Slan's death anniv observed
The Garo rights activist was killed 15 years ago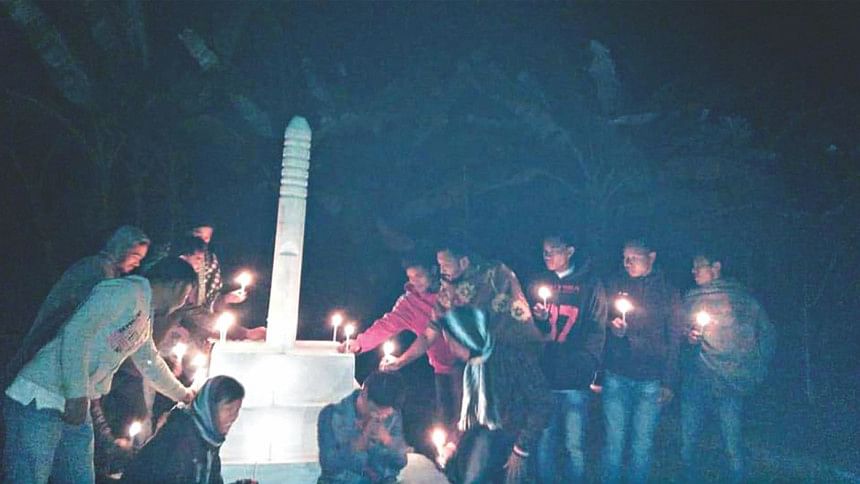 People of Garo community in Madhupur upazila yesterday paid their homage to the anti-Eco Park movement's slain indigenous leader Piren Slan on the occasion of his 15th death anniversary.
Different organisations of Garo students arranged various programmes including candle lighting and placing wreaths at the grave and memorial plaque of Piren Slan in Jalabada area, special prayer and discussion meeting.
The organisations include Bangladesh Garo Student Association (Bagachas), Garo Student Federation and Bondoria Mikrakabo Youth Organisation.
Members of Bangladesh Garo Student Association led by its central unit President Jhon Zetra and General Secretary Alik Mree also met with Utpal Nokrek, who became lame due to firing of the foresters during the movement, and expressed their gratitude to him for his contribution. 
The Garo student leaders said although Piren Slan sacrificed his life for protecting existence of Madhupur Garos, the rights of the indigenous community could not be realised so far.  
Mentionable, indigenous youth Piren Slan of Joynagachha village was killed and 25 agitating indigenous people, including women and children, were injured when police and forest guards opened fire on an anti-Eco Park procession in Jalabada area of Madhupur on January 3, 2004.