Peanut farmers lose harvest to Madhumati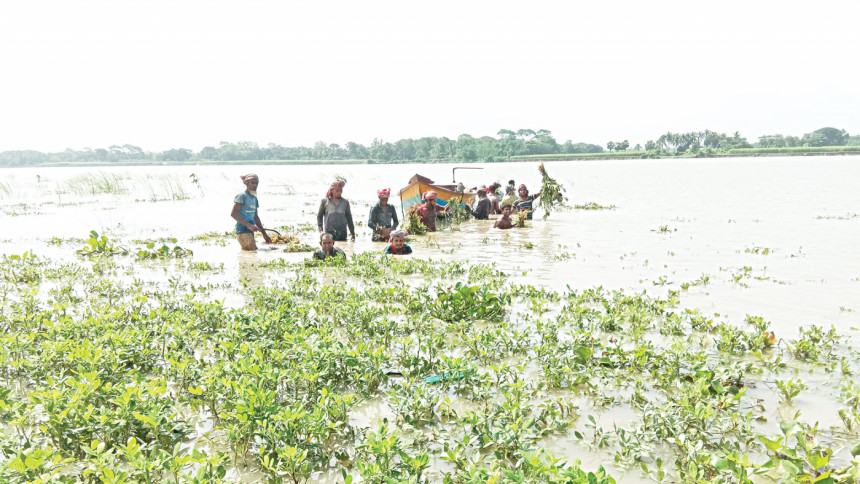 Peanut plants on at least 200 acres in five village of Alfadanga upazila in Faridpur have largely been destroyed after the Madhumati burst its banks and inundated the crop fields. 
At least 150 farmers of Helencha, Tikorpara, Char Makrail, Rudrabana and Belbana villages have lost their crops and suffered financial setbacks. 
According to officials at the Alfadanga upazila agriculture office, they were expecting around 300 tonnes of peanut production from 150 hectares in the upazila. The target may not be achieved now.   
Hazi Anamul, 39, a farmer of Rudrabana village, on Sunday said, "I have cultivated peanuts on 30 decimals of land this year spending Tk 9,000. I have started to harvest a few day ago but I could not harvest my entire crop as the water level rose rapidly."
Md Kuddus Mia, 52, another peanut grower of Char Makrail village, said, "I have cultivated peanuts on three acres of land this year spending Tk 30,000. I could not harvest any as all my fields went under water."
Another grower of Belbana village, Mohammad Ali, 42, said, "I started harvesting when the water level of the Madhumati started to rise. But I could not harvest all."
Ripon Prosad Saha, Alfadanga upazila agriculture officer, said, "Peanut fields on the bank of the Madhumati were ruined as the water level rose suddenly."
"We have asked our field officers to collect data of affected land. After getting the report, we can know how much has been lost."