Panic grips riverside villages
Erosion hits Mirzapur after Jhenai and Bangshi swell up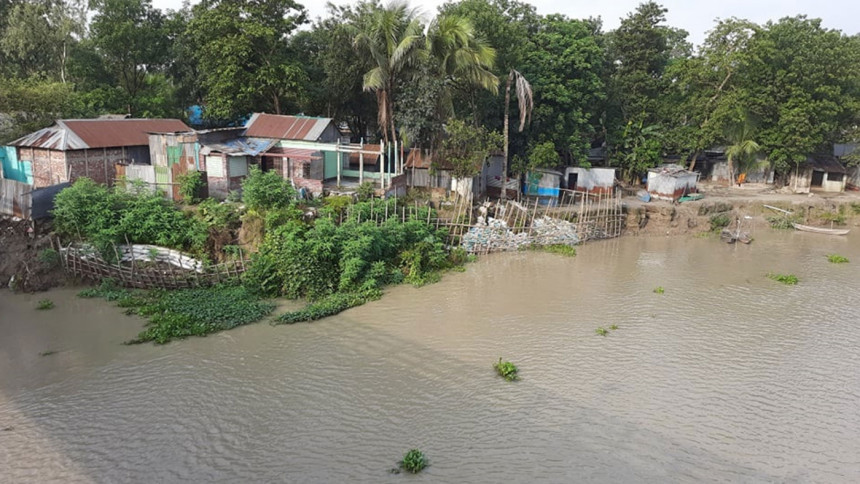 Erosion hits hard the riverside villages in Mirzapur upazila in Tangail as the water levels of Jhenai and Bangshi rivers increase due to onrush of water from upstream and non-stop heavy rains for the last few days, creating panic among the people.
Meanwhile, as authorities have yet to take any step after erosion hit the areas, the people are trying to check the erosion by dumping sand bags and fencing with bamboos for saving their homesteads.
Locals said the Postkamuri, Sawdagorpara, Baoarkumarjani Uttorpara of Mirzapur municipality and Tholpara, Fotepur, Bankata, Chakleshawar, Bailanpur-Patilapara of Fotepur union, and Gorail of Bhatgram union are known to be erosion prone areas in Mirzapur upazila. Acute erosion hit the areas if the water levels increase of the two rivers.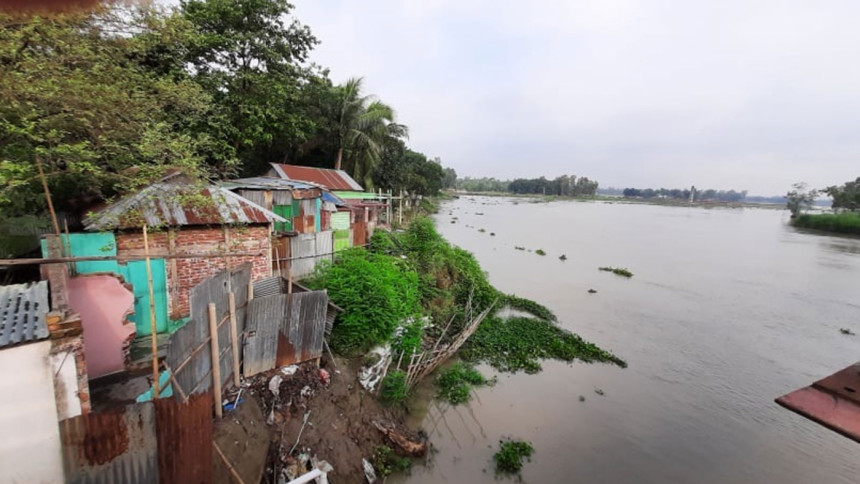 The Ekabbar Hossain Bridge constructed on Bangshi river at Sawdagorpara also remains in a vulnerable state as erosion hit, locals said.
Local people held different programmes last year demanding to save the bridge and also the Sawdagorpara areas from the erosion but nothing has been done in this regard so far, they said.
Moreover, earth lifters have cut earth from the near the bridge for the last few months, they added.
A number of dwelling houses and vast tracks of croplands were devoured by the two rivers during the last monsoon, said SM Shamsul Alam Shahid, a rights activist in Mirzapur.
Many of the local people, including the people of Bankata and Gorail villages, lost their dwelling houses and croplands last year, he said.
Moreover, a part of a market at Hilora village and about 400 meters areas of a paved road and a culvert of Local Government and Engineering Department (LGED) and vast tracks of croplands were devoured by the erosion of the Jhenai river, he added. 
Sagar Mondol of Tholpara village said movement of vehicles-- both heavy and light one-- stopped as the road and the culvert were devoured by the river.
Local people alleged that influential syndicate of sand traders lifted sand from the areas of the river by powerful dredgers during the last dry season. As a result, the erosion has turned serious in the areas this year.
During a recent visit, it was seen that fresh erosion started damaging the paved road near Hilora Bazar area. On the other hand, erosion also hit at Postkamuri, Sawdagorpara and Baoar Kumarjani Uttorpara areas under Mirzapur municipality.   
Mozibor Rahman, a resident of Postkamuri Sawdagorpara, said previously his dwelling house was on 28 decimals of land and now it stands only on two decimals due to the dreadful erosion of the Bangshi river.
"Now, I am trying to save the rest part of my house by constructing a bamboo fence," he said.
Not only Mozibor's, the dwelling houses of his neighbours Jamal Miah, Sharab Ali Fakir, Jafar Miah and Bablu Miah are also in serious threat of erosion.
Jahir Hossain, a rice mill owner at Baoar Kumarjani area, said his rice mill stood on an area of 50 decimals which have diminished to 20 decimals due to the erosion of the river for the last few years. "Now, I am trying to save the mill by dumping sand bags on my own," he said.
Nondo Rajbongshi, Montu Rajbonshi and Monai Rajbongshi of Bankata village said their homesteads have already been devoured by the erosion of Jhenai river and they constructed houses to other places after buying land.
They also said some erosion-hit people in the area are so poor that they have no ability to buy lands for constructing new house. They have taken shelter to other's houses. 
Habel Mridha of Chakleshwar village said dwelling houses and croplands of local people are going to the riverbed and the authorities should take immediate step to check the erosion.
Shirajul Islam, executive engineer of Water Development Board in Tangail, said they have already sent proposals to the higher authorities to take step to check erosion in the areas.