One man's mission to protect trees
Jashore Sadar resident Wahid removed nails from 22,000 roadside trees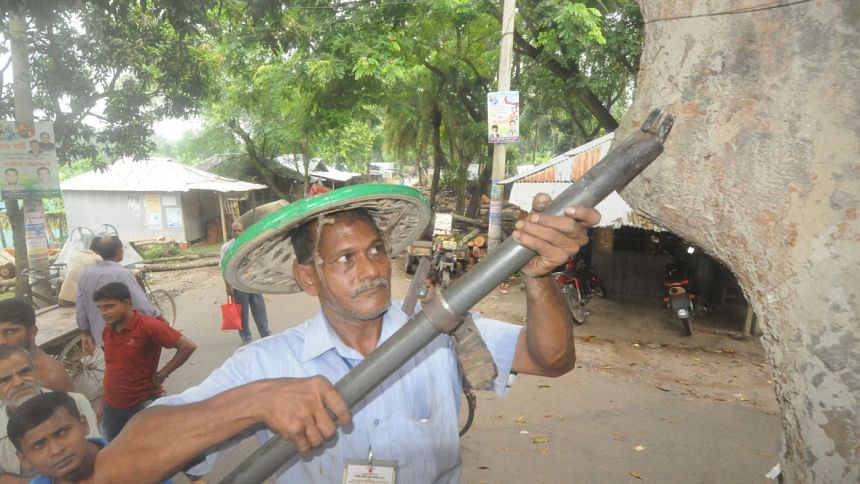 Equipped with a pry bar, hammer, hook, some clothes and a blanket on his bicycle, Md Abdul Wahid Sardar sets out on his mission to remove nails from roadside trees in Jashore.
This has become almost a daily routine for the 57-year-old farmer cum mason, whose love for trees had won him a bronze medal at the Bangabandhu National Agriculture Award 1421 in July 2017 for planting trees spending his own money.
"I have loved trees since my childhood. I would climb up to the branches and play and think about trees and what they feel," said Wahid, who knew even as a boy that trees have life, just like humans.
As he grew up, he felt the need to do something. From 2006, he started planting trees not just on his own land but also on the premises of private and public institutions with money from his own pocket.
Since then, he has planted about 20,000 fruit and medicinal plants in different places of Jashore town, including mosques, temples, police stations and road intersections.
"I soon found that people would nail billboards and signboards on the trunks of the trees that I had planted. Once I took out a nail and noticed sap coming out from the hole," he related.
"It reminded me of how humans bleed when they receive a cut or a bruise and how it hurts. The trees must feel pain too when we hammer nails on their trunks," Wahid reflected.
The thought set him out on his present mission of removing nailed bills, banners and signboards from roadside trees, starting from July 2018.
Between July 4 and December 25 last year, he rode his bicycle for about one thousand kilometres and pulled out nails from trees along the road.
During the six months, Wahid often did not return to his home in Sarapole village under Jashore Sadar upazila. At times, he did not bathe for several days and slept on tea stall benches or verandas of schools and colleges, he said, adding that most people were kind to him and gave him food and water.
Till date, Wahid said he removed 250 kilograms of nails from 22,000 trees along Jashore-Benapole, Jashore-Khulna, Jashore-Magura and Jashore-Jhenidah highways.
"It is illegal to put a billboard on a tree," Wahid said referring to the Graffiti Writing and Poster Sticking Control Act, 2012.
"Various organisations including political parties do not care about this law. They just use trees to hang their publicity materials," he lamented.
While locals appreciate his work, police often try to stop him from removing posters and banners of political parties during the removal of nails and pins from tree trunks, Wahid said.
"I would take out a nailed billboard today and the next day people would put it up again," he said frustratingly. "The forest department and the administration do not look into the matter. But this work is theirs. They are responsible for implementation of the law."
Khulna Divisional Forest Officer Shah Alam admitted that they have not been able to enforce the law.
However, they will try to create awareness among people about where they can put up billboards and posters in compliance with the law, he said. 
While some people call Wahid crazy and laugh at him, others like his neighbour Mohammad Rabbani feels proud of Wahid's work and tries to help him financially at times.
"Sometimes, I even accompany him on his mission to plant saplings and remove nails from trees," he said.
The tree lover also gets support from his wife and three children -- two sons and a daughter.
His daughter Nasima Khatun said, "We feel proud of our father. Although it becomes difficult for us when he stays outside for days to plant trees and remove nails, we accept it for the sake of the country."
Wahid, too, does not want to let people's criticism and disregard for the law get between him and his love for the greens.
He wishes to continue his work of planting more trees and saving them from human assaults.