Hobby turns to profit
Jashore woman sets example by cultivating mushroom commercially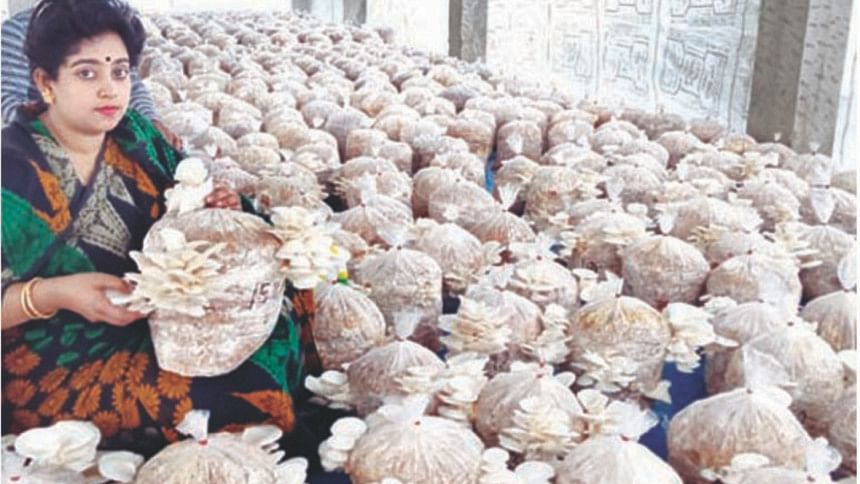 It is not so easy to move something from a hobby to a business. But Farzana Yeasmin of Jashore town has turned it into profit with a measure of her entrepreneurial spirit.
Her raise and success story are now a great source of inspiration for many housewives and unemployed youths in the area.
Initially Farzana began mushroom cultivation with a few spawns (mushroom seed) as a hobby. Now, with around 1,300 packs of different varieties of mushrooms at her Bristi Mushroom Centre, she is now selling those commercially.
Farzana's rooftop farming of mushroom became very popular in the locality then, which inspired her a lot.
In 2016, Farzana received training on mushroom cultivation from Magura Dream Mushroom. With Tk 2.50 lakh, she then commercially started mushroom cultivation on the rooftop of her rented house in the town's Murali area under a project. She collected spawns from Dhaka Mushroom Development Centre.
"When I started mushroom cultivation, I never really looked at it as a business but as pursuing a hobby. My project name is Bristi Mushroom Centre," said Farzana.
Each packet of mushroom is now being sold at Tk 250 while the production cost is Tk 25 for per pack, she said, adding that as the production cost is very nominal, it is a profitable business.
Buyers directly come to buy mushroom at her house, she added.
Farzana said her business is quite good and she is planning to export the mushrooms.
Fifteen male and female employees are now working at her centre, she said. 
Emdad Hossain Sheikh, deputy director of Department of Agricultural Extension (DAE) in Jashore, said encouraged by the success of trained grower Farzana, many housewives and unemployed youths are expressing their interest to receive training on mushroom cultivation.
They have already given training on mushroom farming to some youths, said the DAE official.