Two killed in 'shootouts'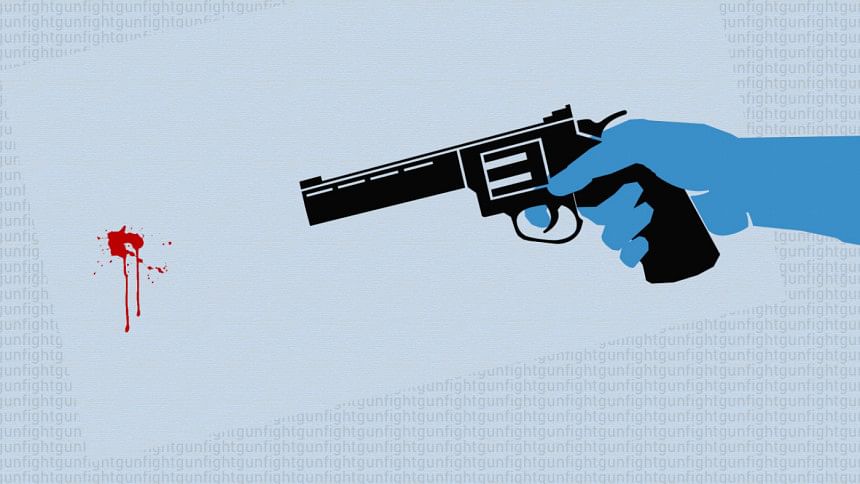 Two people, including a suspected drug trader, were killed in separate "shootouts" in Jashore and Bandarban districts early yesterday.
Police said Shahidul Islam Tapan alias Tera Tapan was a suspected drug trader killed in a "gunfight" between two groups of drug traders in Bablatola area of Jashore town.
On information that a gunfight was taking place between two groups of drug traders, a team of police raided the area around 3:00am, reports UNB quoting Naimur Rahman, assistant superintendent of Jashore Sadar Circle police.
Sensing the presence of police, the drug traders escaped and the law enforcers recovered the bullet-hit body of Tapan from the scene, he added.
The police also recovered 5 kilogrammes of hemp from the spot.
The deceased's brother Sajjadul Islam said Tapan had been missing since Thursday evening and he got his body in the morning at the hospital morgue, reports our Benapole correspondent.
He added the police statement was not right, claiming his brother lived a normal life. He was not involved in any criminal activities and was a government contractor.
With this, at least 232 suspected drug peddlers or traders have so far been killed since the nationwide anti-narcotics drive began on May 4. Most of them were killed in so-called shootouts involving police and Rab.
In Bandarban, a suspected robber was killed in a "gunfight" with police in Baishari brickfield area of Naikhongchhari upazila.
The deceased, identified as Md Anwar Hossain, 41, son of Abu Syed of Cox's Bazar's Maheshkhali area, was the second-in-command of a notorious gang of robbers, police claimed.
Officer-in-Charge of Naikhongchhari police Sheikh Md Alamgir said they conducted a drive in the area on information that robbers were gathering there. Sensing the presence of law enforcers, the robbers opened fired on the police, who retaliated, resulting in a gunfight.
Anwar was shot dead on the spot, reports our Bandarban correspondent quoting the police.
The law enforcers claimed to have recovered two homemade guns and six rounds of bullets from the spot.