Dengue claims 4 more lives across country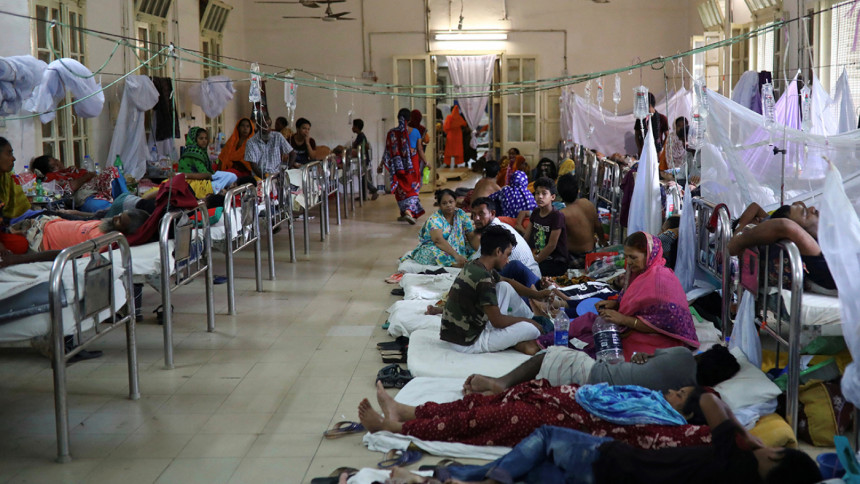 Four more people have died of dengue, a mosquito-borne disease, in Dhaka, Mymensingh, Khulna and Faridpur districts today.
The deceased are: Fatema Begum, 45, of Dhaka; Anwar Hosen, 40, of Mymensingh; Mizanur Raham, 40, of Khulna; and Delwar Hossain, 35, of Faridpur.
In Dhaka, Fatema died around 1:30am while receiving treated in the capital's Mitford Hospital, Brig Gen Morshed Rashid, director of the hospital, told The Daily Star.
She came to the hospital from Narayanganj last night, he added. 
In Mymensingh, Anwar died around 1:00am while being treated at Mymensingh Medical College and Hospital (MMCH), our local correspondent reports quoting the hospital's Assistant Director Dr AB Md Shamsuzzaman.
Anwar, son of Abdul Latif from Netrakona's Kendua upazila was admitted to the hospital around 4:00pm yesterday, the doctor said.
In Khulna, Mizanur was admitted to Khulna Medical College Hospital with dengue fever on August 15 and died around 7:00am today, UNB reports quoting Dr Sailendranath Biswas, resident medical officer of the hospital.
At least 20 new patients were admitted to different hospitals in Khulna in the last 24 hours till Monday morning while 69 patients are undergoing treatment.
In Faridpur, Delwar Hossain died around 10:00am after being diagnosed with dengue at Faridpur Medical College Hospital, the hospital's Director Kamoda Prosad Saha told UNB.
Delwar's father Sheikh Safiuddin said they admitted Delwar to Faridpur Sadar Hospital with dengue and shifted him to Faridpur Medical College Hospital on Sunday night.
At least 57 new patients were admitted to different hospitals in Faridpur in the last 24 hours till Monday morning while 346 patients are undergoing treatment.
DENGUE SITUATION
At least 1,706 new patients were hospitalised in 24 hours till Sunday morning across the country, according to Health Emergency Operation Center and Control Room of the Directorate General of Health Services (DGHS).
The dengue situation keeps getting worse every day and took an alarming turn outside capital.
The number of dengue patients was 1,460 on Saturday, 1,719 on Friday while 1,929 on Thursday, 1,880 on Wednesday, 1,201 on Tuesday and 2,097 on Monday last.
The rate of new infections fluctuated around the last week even though it showed a slight fall on Friday and Saturday but increased again on Sunday.
Meanwhile, the number of new infections in district level also increased in the last 24 hours from Saturday's 839 to 972 on Sunday.
The government has so far confirmed 40 deaths although unofficial estimates suggest the death toll is much higher.
Currently, 7,168 patients are undergoing treatment at different hospitals and clinics, less by 7 percent than Saturday. Of them, 3,668 have been hospitalised in the capital and 3,500 around the country.