Covid-19 Fallout: Jhenidah mango growers feel the pinch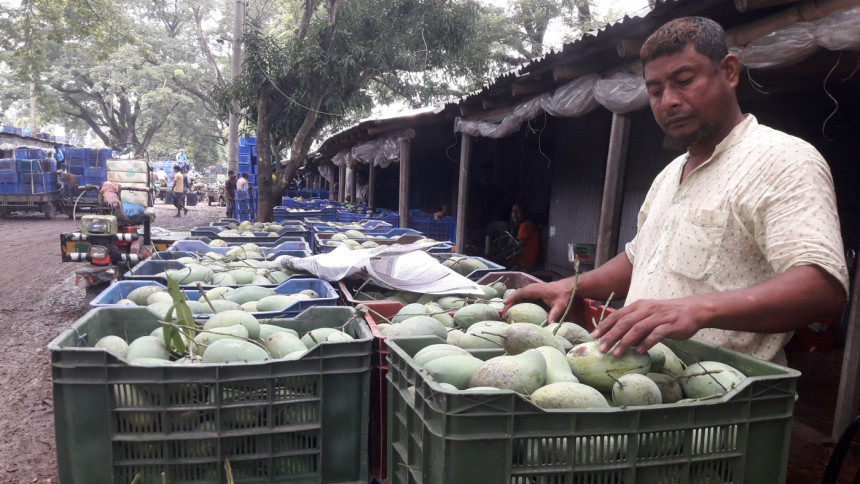 Loss in sales amid the pandemic situation has put hundreds of mango growers in Jhenidah in extreme financial difficulties.
Many of the growers said unable to sell their produce, they could not pay off lease money for the orchards.
While visiting Jhenidah's largest mango market in Kotchandpur upazila, mango growers told this correspondent that compared to previous years, the number of mango traders, who buy the produce from them, has dropped drastically at markets this year.
With the fall in buyers, the prices of mango are also plummeting. As a result, their earnings from dwindling sales cannot even cover the cost of leasing orchards and nurturing mango trees in the orchards
As opposed to Tk 40 to Tk 45 per kilogram of mango last year, the fruit is selling for only Tk 20 to Tk 25 per kg this year, they lamented.
Moshiar Rahman, a mango grower from Solaimanpur village in Kotchandpur upazila, said that this year he spent Tk 3.50 lakh on insecticides, fertiliser and irrigation for his mango orchard on 25 bighas of land. 
So far he made only Tk 2 lakh from sale of mango that would be sold for at least Tk 8 lakh if the situation was normal. 
The sudden drop in income has him pondering how he would repay his loans and provide for the family, he added.
Another mango grower, Abdul Hamid, from Chuadanga, said considering a huge demand of Amropali and Fazli varieties of mango in markets of Jhenidah and Chuadanga, he spent Tk 3 lakh on a 25-bigha orchard this year.
But he anticipated incurring of huge losses this time as the mango was selling for only Tk 25 a kg.
Ashraf Ali, a mango trader, told this correspondent that thanks to the Covid situation, reaching different markets has become difficult and expensive.
The situation has been compelling them to buy lesser amounts of mango this year, resulting in great losses for mango growers, he also said.  
Sanjoy Biswas, president of Kotchandpur mango market, said around 70 mango wholesalers at the market buy and sell about 8,000 maunds of mango every day and so far, they paid Tk 15 lakh in revenues to the government this year.
The government should provide assistance to mango growers and traders in financial troubles so the rural economy does not collapse, he also said.