Communication hampered in dried Jamuna
Sandy land emerges in most of the areas of the mighty river as water level sees drastic fall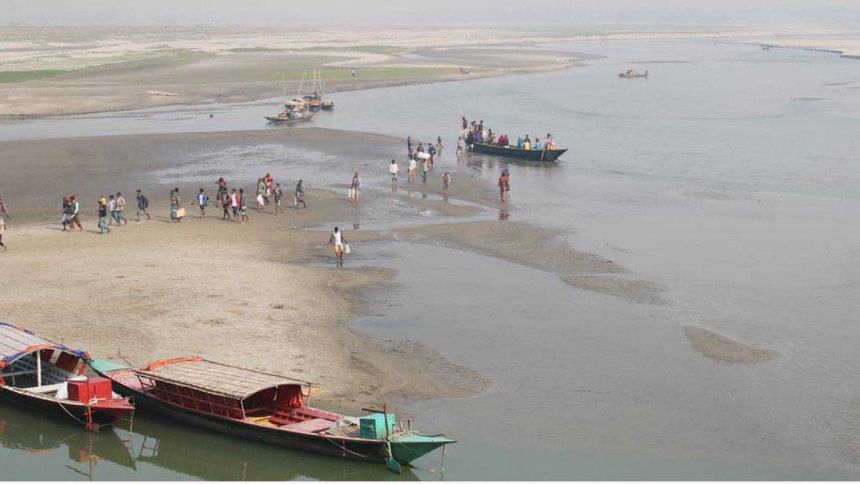 Communications along the waterways in the Jamuna river basin routes, especially in the winter season, virtually remain suspended, as the river usually loses its navigability due a poor water flow from the upstream.
As many as 35 large and small river ports, locally called ghats, have remained inactive at different points along the Jamuna basin due to deposition of huge sand in the riverbed and development of shoals.
According to Bangladesh Inland Water Transport Authority (BIWTA), over 400 kilometre waterways in the region are facing serious threat while a number of river routes are already closed as those turned into a tiny canal at many points.
Sources at Gaibandha Zila Parishad, who usually leased the ghats, plying of goods-laden and passenger boats along the river routes in Sundarganj, Fulchhari and Saghata upazilas of Gaibandha, Chilmari, Raumari, Rajibpur in Kurigram, Sariakandi, Sonatola in Bogura and Dewanganj and Islampur upazilas in Jamalpur are now on the verge of closing down due to acute navigability crisis.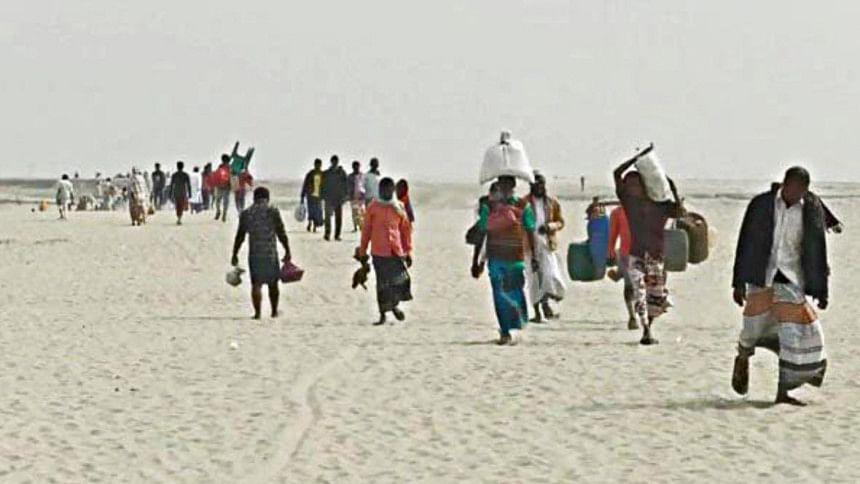 Earlier, thousands of people in those areas used to travel to different destinations using engine-boats everyday.
Although it takes a reasonable time to carry goods or passengers to their destinations in the rainy season, it consumes more time in dry season.
Besides, cargo and passenger boats have to travel a long way in search of navigable branches of the river, which consumes more time and fuel.
Meanwhile, movement of country boats in different routes have been seriously hampered this year as the river dried up a bit earlier than that of the previous years.
As a result, shoal people as well as other passengers are forced to cross the sandy way on foot to go to their destinations.
"I have been plying country boat to and from Balashi ghat and Bahadurabad ghat for the last seven years. But due to a drastic fall in water level in the last three years, I need five to six hours to reach one ghat to another now, while it takes only two hours in the rainy season," said Jamal Uddin, a boatman at Balashi ghat.
As passengers have to travel on foot to reach the ferry ghat, locals erected a bamboo bridge across a deep portion of the river on the way, Jamal said.
Besides, the main stream of the Jamuna river had to be shifted to one and half a kilometres from the western bank due to poor water flow and deposition of sands in the riverbed, he added.
Due to the dried up waterways, local farmers have to suffer most while carrying their agriculture products to different markets, Fazlupur Union Parishad Chairman Abu Hanif Pramanik said.
Abdul Awal, BIWTA site engineer at Balashi ghat, said right now they are conducting the earth filling work and hope to complete the dredging of the river by December this year.