Cancel headmaster's suspension
Teachers, students of Borodol High School demand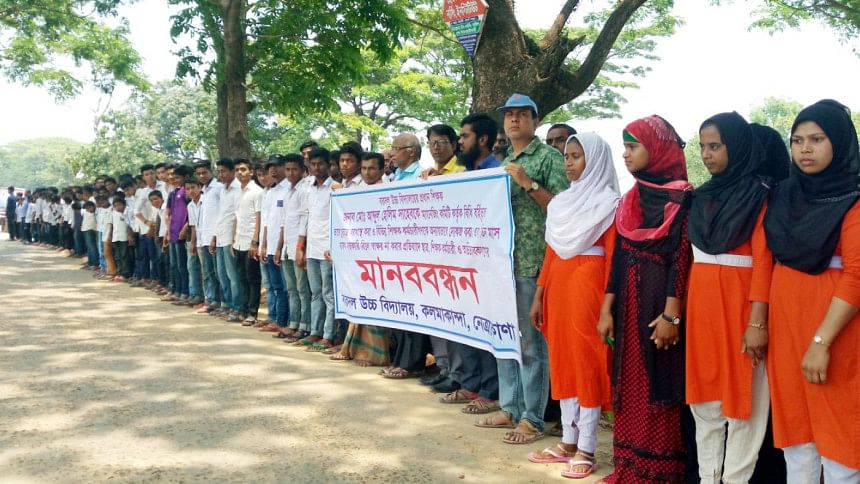 Protesting suspension of the headmaster, teachers and students of Borodol High School formed a human chain in Borodol bazar area of Netrakona's Kalmakanda upazila yesterday.
They alleged that Shah Md Fakrul Islam Firoz, president of the school managing committee, has suspended headmaster Md Abdul Helim illegally.
Firoz, also the former chairman of Kalmakanda Upazila Parishad, has also not been signing the bills of teachers and employees for the last three months, keeping them in serious misery.
The protesters also demanded cancellation of suspension order of the headmaster, considering the interest of education of the students. Established in 1972, the school has now 700 students.
Teachers Md Abdul Latif, Monoranjan Saha, Amol Chandra Dev and Anjuman Ara Begum, among others, spoke.
Headmaster Helim alleged that school managing committee president Firoz first suspended him in March last year bringing various allegations of corruption against him.
"The suspension order was also sent to the "Arbitration Board" in Dhaka but the board passed a verdict for my reinstallation and I joined the school in December last year," said Helim.
"There was no meeting of the managing committee with me before issuing the suspension order though I am the member secretary of the body," he said.
Investigations conducted by anti-corruption commission found nothing with the allegations, he claimed.
"But Firoz did not stop his ill motive and suspend me permanently on April 3 this year which is beyond law," said the headmaster.
As Firoz did not sign the bill, 12 teachers and four staffers could not draw their salaries for the last three months, he said.