Barishal chilli farmers hit hard by Amphan
They appeal for urgent financial assistance from govt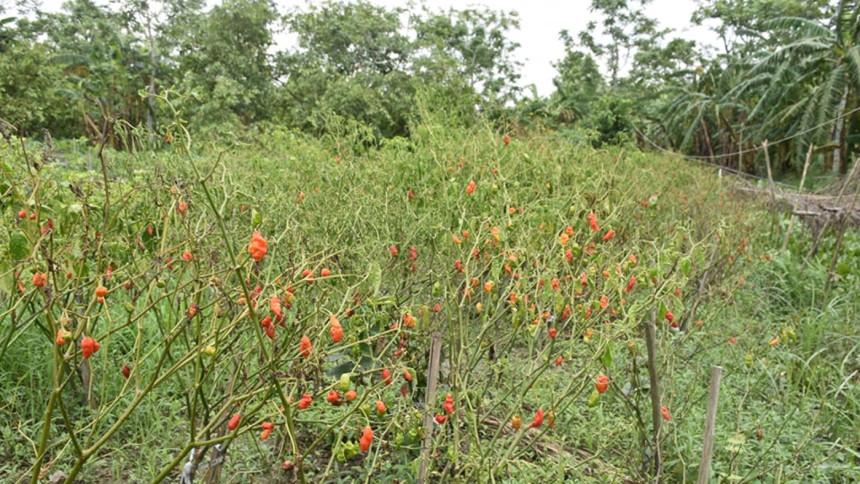 Super cyclonic storm Amphan last month left a trail of devastation in Barishal division. Vast swathes of agricultural land including chilli gardens in the division sustained extensive damage as the tropical cyclone pounded the country's coastal areas.
Aftab Uddin Ahmed, additional director (Barishal region) of Department of Agricultural Extension (DAE), said the storm damaged at least Tk 64 core worth of crops -- including Boro paddy, banana and chilli -- on 17,455 hectares of land.
Chilli was cultivated on around 38,332 hectares of land in Barishal region.
While visiting Adabari and Zindakathi villages in Nesarabad (Swarupkathi) upazila of Pirojpur to witness the aftermath of Amphan, this correspondent found most chilli gardens badly damaged.
Probhash Chandra Saha, deputy director of DAE in Pirojpur, said chilli was cultivated on 512 hectares of land in the district and 'Bombay' chilli variety was cultivated on 26 hectares of the land. 
Kuriana Union Parishad Chairman Shekhar Kumar Shikder said 'Bombay' chilli is highly popular among chilli farmers in the area and almost half of the 'Bombay' chilli gardens were damaged by the cyclone in the union.
Retired teacher Nityananda Samaddar cultivated the variety on two bighas of land in Adabari village of Nesarabad upazila.
He said almost the entire garden has been damaged by super cyclone Amphan. "I had sold the chilli [Bombay] for Tk 250 to 350 per maund at Zindakathi market every year, but this year I could not sell a single piece of it."
"I hoped to make around Tk 30 to 40 thousand from the chilli I planted on four bighas of my land this year. But the cyclone has destroyed all my crops including the chilli," said another farmer, Bimal Howlader, from Andakul village in the same upazila.
Chilli trader Ramzan Ali, based in Zindakathi market, said he usually procures four to five maunds of Bombay chilli from the area, but this year he has not been able to procure any chilli including the Bombay variety.
A number of chilli farmers this correspondent spoke with said the estimated damage in chilli gardens in Nesarabad upazila alone might be around Tk 50 lakh.
The farmers also said it would be very difficult for them to recover this loss unless the government provides some sort of financial assistance to the affected farmers in the region. 
DAE Deputy Director in Pirojpur Probhash Chandra Saha said they already sent a letter to the agriculture ministry, seeking financial assistance for the farmers affected by Cyclone Amphan in Pirojpur.