3 to die for killing RU Prof Shafiul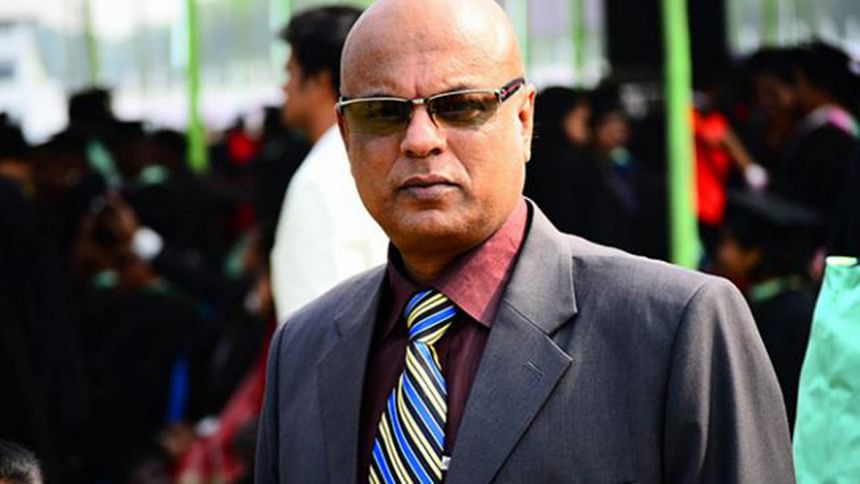 A Rajshahi court today sentenced three people to death for killing Rajshahi University teacher Prof AKM Shafiul Islam in 2014.
Judge Anup Kumar of Rajshahi Speedy Trial Tribunal awarded death penalty to Abdus Samad Pintu, Ariful Islam Manik, and Mohammad Sabuj around 12:15pm, reports our Rajshahi correspondent.
Among them, Pintu, a Jubo Dal activist, and Manik, former Katakhali municipal unit Jubo Dal organising secretary, were present at the court, whereas, Sabuj is absconding.
The court, however, acquitted eight other accused in the case as allegation bought against them were not proved.
Expressing dissatisfaction over the verdict, Golam Mortuza, the defence lawyer, said, "None of the witness accounts taken from the 34 witnesses of the case proves that my clients are guilty."
On the other hand, Soumin Shahrid, son of the slain professor, claimed that both the investigation and the trial in the case were not done properly.
Soumin also blamed the then administration of Rajshahi University for not supervising the case properly.
The then administration of RU assured him of taking care of the matter and urged him to concentrate on studies instead, Soumin claimed.
"But they neglected the issue and failed to ensure the highest punishment for all those responsible," Soumin said.
Soumin claimed that Rab interfered in the case saying, "they mislead the trial process".
CASE HISTORY
Assailants stabbed Prof Shafiul, 48, to death on November 15, 2014 when he was returning home in Rajshahi city's Choddopai area. Shafiul was known as a progressive teacher and a Lalon songs enthusiast.
Hours after the killing, Ansar Al Islam Bangladesh-2 claimed responsibility for the murder on social media and police arrested three militants over the claim. The victim's son Soumin Shahrid Javin also suspected radicals behind the murder.
RU registrar filed the murder case the following day, accusing unknown persons.
On November 30, 2015, Inspector Rezaus Sadik of police's Detective Branch submitted the charge sheet and ruled out any militant outfit's involvement in the murder.
He accused Anwar Hossain Ujjal, a former convener of Rajshahi district unit of Jatiyatabadi Jubo Dal, and ten others for the murder.
Other accused are: Nasrin Akhter Reshma, an assistant section officer of RU; Pintu, Manik, Sirajul Islam Kalu, Mohammad Sabuj, Al Mamun; Mohammad Arif, Mohammad Sagor, Zinnat Ali, and Ibrahim Khalil alias "Tokai Babu".
According to the charge sheet, Sabuj, Sagor, Arif, Zinnat and Ibrahim hacked Prof Shafiul to death upon receiving instructions from Ujjal and Manik.
The charges were based only on the confessional statement of the accused Nasrin Akter Reshma who claimed Prof Shafiul was killed because "he misbehaved with her", said public prosecutor Entajul Haque. He said none among the 34 prosecution witnesses named the accused persons.