2 Ashulia garment factories shut over workers' unrest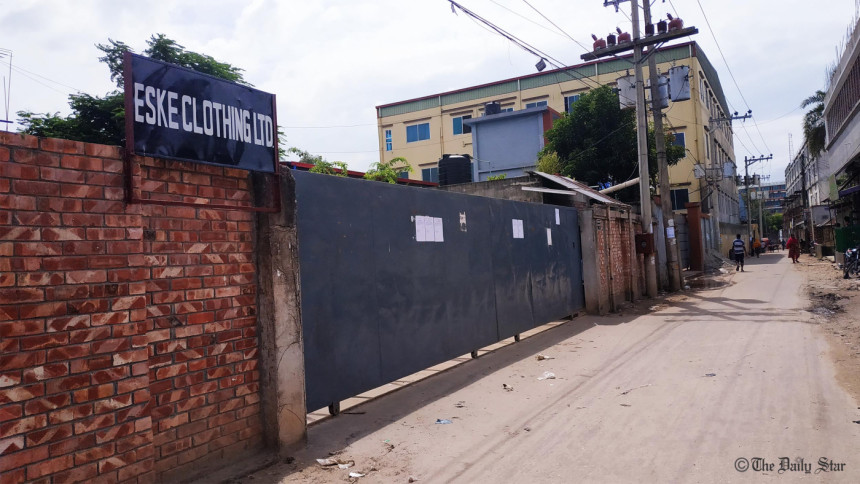 Authorities of two garment factories in Ashulia shut down the two factories indefinitely today following an ongoing protest over dismissing 58 workers.
The demonstrators alleged that Eske Clothing Ltd and Naba Knit Composite Ltd sacked 28 and 30 workers each with implausible excuses, our Savar correspondent reports quoting workers.
Later, workers alleged that they were beaten by miscreants hired by the employers when they protested the sudden lay off of their fellow workers.
Moreover, the authorities today shut the factory without resolving the issues, the workers alleged.
Naba Knit Composite Ltd sacked 30 workers on August 29 on various grounds and banned the use of mobile phones by workers inside the factory on the same day.
Workers protested and tried to talk to the authorities on the issues, but they were suddenly notified today that the factory will remain shut indefinitely, one of the workers of the factory told our correspondent on assurance of anonymity.
Contacted, Adam Ali, Manager (HR and Compliance) of Naba Knit Composite Ltd, said that they dismissed the workers after clearing their dues with regard to the law.
"Use of mobile phones hampers the factory work and that is why we banned it," he added.
Sarwer Hossain, a worker leader of Ashulia, expressed his hope that the authorities of the two factories will accept the demands of the workers and will reopen the factories soon.
"The factory authorities sacked workers and provide implausible excuses increasing the workers suffering. Such layoffs and closing of the factory are not solutions," he said.
Nazrul Islam, AGM of Sidco group under which Eske Clothing Ltd operates, said that they repeatedly asked the workers to go back to work, but the workers kept protesting without any grounds and that is why they had to shut the factory.
He also said that they did not beat up any worker and he claimed that he was injured by a flower pot hurled at him by agitating workers.
Sana Saminur Rahman, superintendent of police (SP) of Industrial Police (Dhaka-1) told The Daily Star that the protest was hampering the work environment for the past few days although the authorities sacked the workers after clearing their dues.
As they are yet to resolve the issue, the owners shut the factories for a time being, he said.
Additional police force has been deployed for avoiding any untoward incident in the area, he added.