Court sends 17 JMB members on 'jihad mission' to jail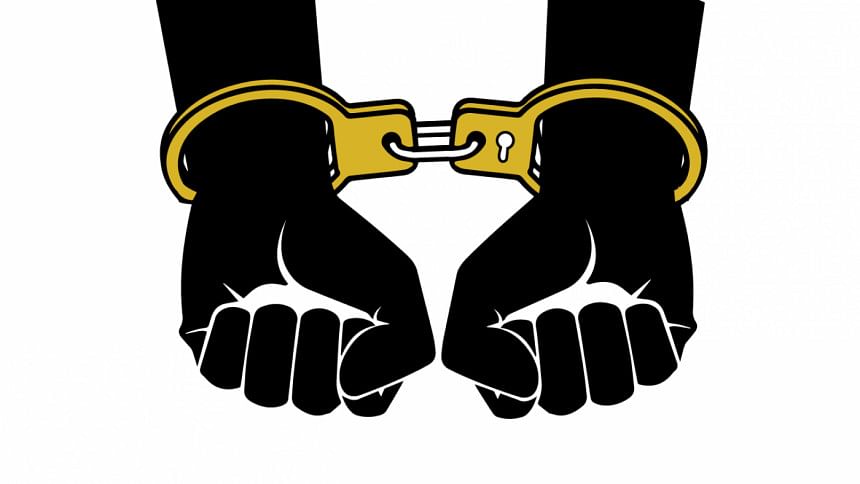 The counter terrorism unit claims to have arrested 17 members of JMB from the capital's Kakrail, who were planning to join a so-called jihad after migrating into Saudi Arabia.
All the arrestees were sent to jail by a Dhaka court this afternoon.
They were produced before the court of Metropolitan Magistrate Md Sarafuzzaman Ansari without any remand prayer, said Md Nizam Uddin, general recording officer of Ramna Police Station at the Chief Metropolitan Magistrate's court.
Acting on previously received information, police conducted a drive in front of the Public Health Office, opposite Kakrail Mosque, around 7:15pm yesterday and made the arrests, Towhidul Islam, additional deputy commissioner (ADC) of Counter Terrorism and Transnational Crime (CTTC) unit, told The Daily Star today.
The arrestees were identified as Md Haider Ali, Md Mahmudul Hasan alias Masum, Md Jamirul Islam, Md Billal Hossain, Md Sheikh Arafat alias Johnny, Imrul Hasan alias Emon, Saiful Islam, Md Mozammel Haque, Md Shahjalal, Md Akhtaruzzaman, Mahmudul Hasan alias Sabbir, Abid ul Mahmud, Sohail Sardar, Obaidul Islam alias Sumon, Mahmud Hasan alias Sharif, Majedul Islam alias Mukul and Sohag Hasan.
The CTTC team also recovered cell phones, Tk 2.34 lakh and USD 922 from their possession.
"Upon primary interrogation, all of the arrestees admitted that they are members of mainstream JMB," said Towhidul.
Towhidul, who led the operation, said that an engineer, Syed Mostaq bin Arman, left Bangladesh for Saudi Arabia in 2017 and still remains in the country. Mostaq released some audio speeches and videos on his YouTube channel, inviting Muslims to join jihad at a place called Ghazwat-ul-Hind as a soldier of Imam Mahdi, he added.
"Inspired by this audio and video clip, the arrestees communicated with Mostaq and tried to go to Saudi Arabia to prepare for war as Imam Mahdi's soldiers," said Towhidul, adding that they left home in mid-March to join the "jihad".