Nat'l Committee's 'March towards Dhaka' begins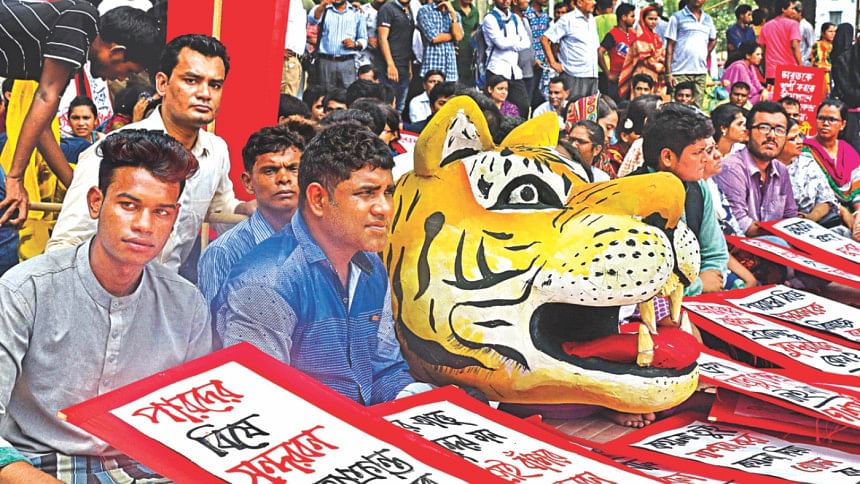 The National Committee to Protect Oil, Gas and Mineral Resources, Power and Ports started its 'March towards Dhaka' from seven divisional headquarters on Thursday demanding cancellation of the Rampal Power Plant near the Sundarbans.
Committee activists simultaneously launched the programme from Chittagong, Khulna, Rajshahi, Rangpur, Sylhet, Barisal and Mymensingh in the morning to press for their demand.
Earlier, marchers started their motorcade processions from different districts and upazilas to join the divisional level rallies and then started the march towards Dhaka, said committee leader Ruhin Hossain Prince.
A march started from Charbad area of Rampal and reached Khulna city through Mongla and the district town of Bagerhat to join the march from Khulna, he said.
With the march, the National Committee activists will reach Dhaka on Saturday and hold a grand rally at the Central Shaheed Minar in Dhaka.
On their way to Dhaka, they will also hold rallies at different districts from where other activists will join the march.
Noting that no untoward incident happened so far, Prince hopes a big turnout in their long march programme.
The National Committee announced the 'March towards Dhaka' programme from a sit-in in front of the Central Shaheed Minar on August 20.
In the last three months, the committee has been mobilising people to join the programme to raise their voice to cancel the Rampal power plant and protect the Sundarbans.