Nat'l committee calls hartal in Dhaka on Jan 26
Countrywide demo on Dec 26 protesting Rampal power plant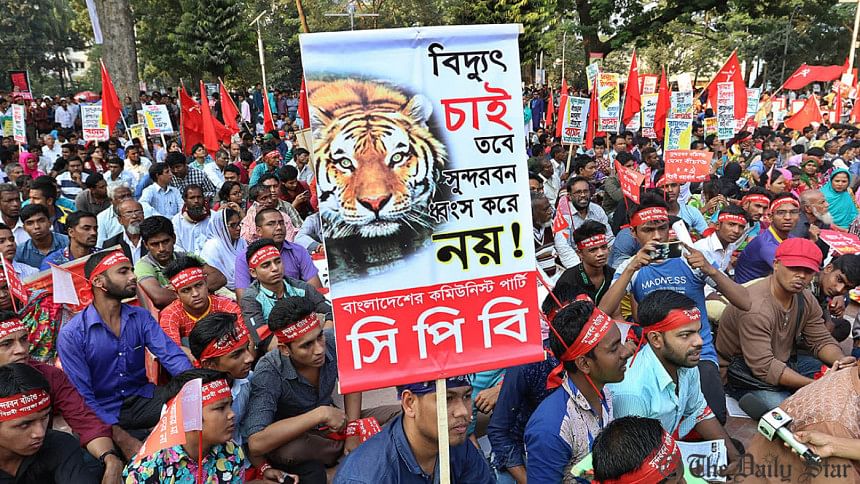 National Committee to Protect Oil, Gas, Mineral Resources, Power and Ports today announced to observe a half-day hartal in Dhaka city on January 26 protesting Rampal power plant near the Sundarbans.
The committee also decided to stage countrywide demonstration on December 26 to press home their demand for scrapping the power plant.
The announcement came from the grand rally of "Cholo, Cholo, Dhaka Cholo" (Lets march towards Dhaka) campaign of the committee at Central Shaheed Minar in Dhaka this afternoon.
Several thousand people today thronged the Central Shaheed Minar premises to join the 'March to Dhaka' programme called by the National Committee to Protect Oil, Gas, Mineral Resources, Power and Ports.
Different left leaning and progressive political parties joined today's programme carrying anti-Rampal power plant festoons, placards with hundreds of green activists chanting slogan—'Go back, get out India,' 'Sundarbans is my mother, we will not let it turn into ashes'.
Earlier, different socio-cultural organisations staged dramas projecting the 'ominous effect' of the power plant.
Junaid Saki, coordinator of Gonotantrik Bam Morcha, said today's movement is for saving the environment.
"Scrap the Rampal power plant immediately when you have time to do so, otherwise the people will topple you from power," our Dhaka University correspondent reports quoting Saki as saying.
In 2009, Bangladesh and India signed a deal to set up the two power plants in Shapmari and Katakhali, nine kilometres away from the Sundarbans.
A total of 1,834 acres of land has already been acquired for the power plants with a capacity of 1,320 megawatt of electricity.
Despite the government's assurance that the plant would not harm the Sundarbans, the Unesco remains firm against the plant and on October 20 requested again the government to cancel and relocate it to a more suitable place.
Otherwise, the UN's culture and science agency may place the forest on the list of "World Heritage in Danger" next year.
Meanwhile, Nasrul Hamid, state minister for power, energy and mineral resources said the construction work of the power plant at Rampal which is barely 14 kilometres off the forest has already started.