Rohingya refugee crisis: Thousands take shelter in no-man's land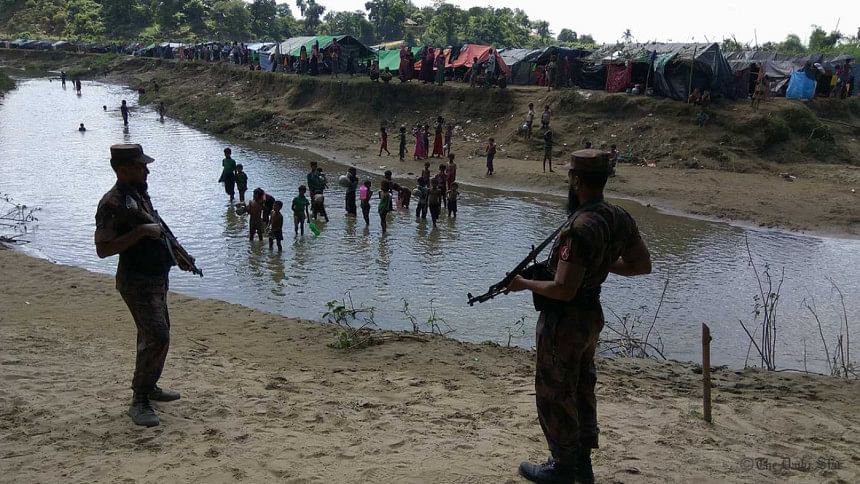 Just a few kilometers from Bangladesh and Myanmar borders is the no-man's land where thousands of Rohingya refugees have set up temporary shelter along the Tombru canal near the border point in Naikhyangchari upazila of Bandarban.
As the influx of Rohingya refugees continues for the last three days, gunshots were heard this morning on the Myanmar side of the border, reports our Chief Reporter Pinaki Roy from the spot.
A Bangladeshi, Mohammad Hossain, whose house is just opposite Tombru canal, told the chief reporter that the Rohingya refugees cross the canal after requesting Border Guard Bangladesh and collect drinking water, some food and medicines and go back to the make-shift camp they set up.
Meanwhile, thousands of Rohingya refugees have entered Bangladesh and taken shelter in Ghumdhum union in the upazila, said Jahed Hossain, headmaster of Jabunia Primary School.
Meanwhile, helicopters most possibly dispatched from Myanmar were seen patrolling the zero point on its end.
Thousands of Rohingyas continue to enter Bangladesh through different unguarded border points of Ukhia, Teknaf and Naikhyangchhari in last three days.
Bangladesh saw a fresh exodus of refugees after at least 89 people were killed as Rohingya militants besieged border posts in northern Rakhine State of Myanmar on August 25.